How to Use IKEA Cabinet Hacks to Solve Even the Toughest Storage Issues
We see your kitchen's potential and we'll get every inch to work. How can we be so sure?
We've done it before, and we know that using a few clever IKEA cabinet hacks will tighten up and maximize your IKEA kitchen design.
So, if you're looking for hacks to maximize space in small kitchens, our design team at IKD can help.
Whether it's using fillers, customizing standard IKEA cabinetry – such as with blind cabinets or appliance garages – or using cut cabinets, there are many ways to create a functional kitchen that's also eye-catching.
Let's take a look at how to capitalize on your IKEA kitchen without sacrificing space or style!
IKEA Kitchen Corner Cabinet Hack
Kitchen corners can sometimes be troublesome for designs. But a good designer will see this as an opportunity to showcase their creative talents to design a blind corner cabinet solution.
The first of our IKEA cabinet hacks that's worked well for us is incorporating a blind corner cabinet.
Blind corner base and wall cabinets are some of the most common ways to design a corner.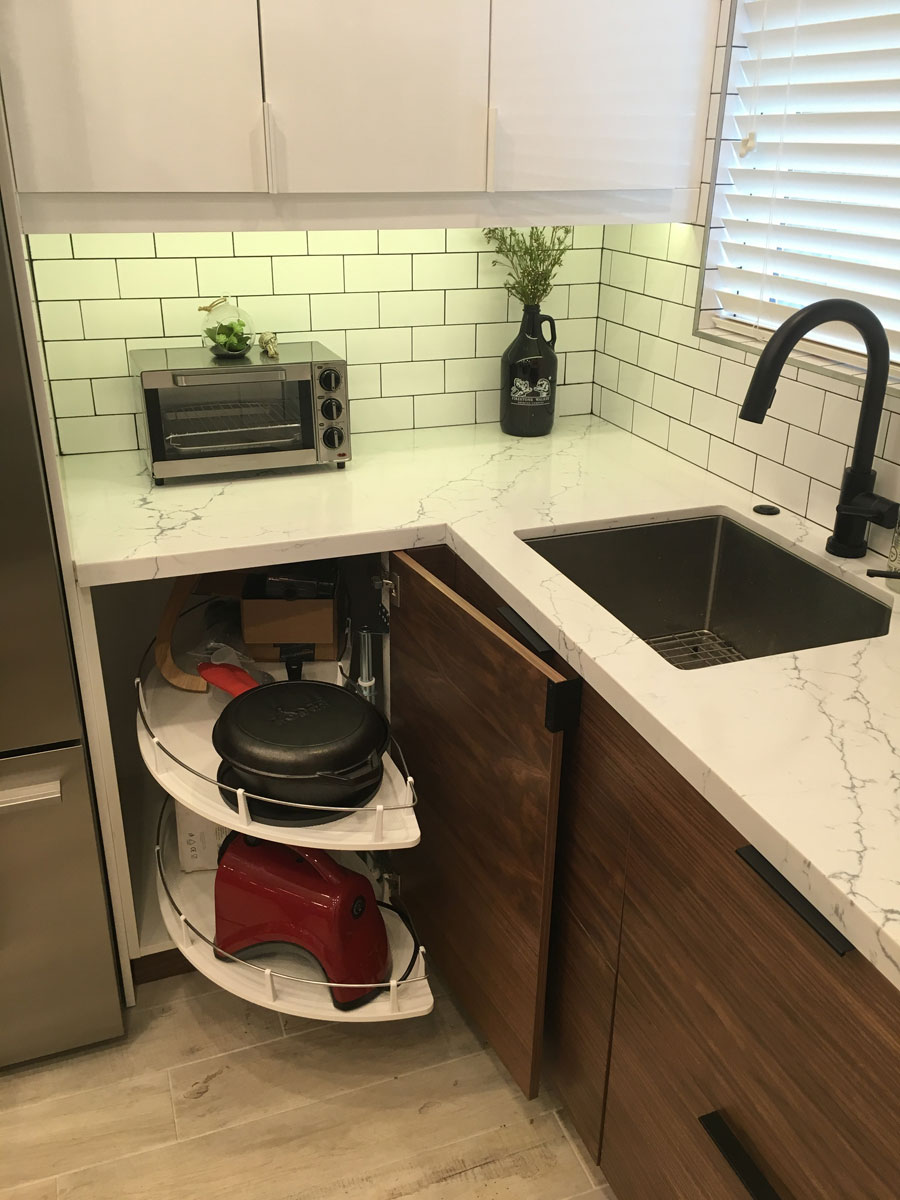 You may also want to consider products such as The Cloud single-tier organizer Blind Corner Accessory from Rev-A-Shelf, as another option.
We'll Design Your Ideal IKEA Kitchen Easily, Affordably, and Online

Our IKEA Kitchen Design Package is everything you need to complete your new kitchen with confidence.
Appliance Garage
Small appliances can take up a lot of countertop space.
This is where an IKEA appliance garage comes in handy. It's a special cabinet built to house kitchen appliances, like toasters, blenders, food processors and stand mixers, you name it.
And appliance garages go great in kitchen corners too, by the way.
Sadly, IKEA's SEKTION line does not include an out-of-the-box appliance garage.
Our IKEA hack uses a tall pantry cabinet to make an appliance garage.
First, take a pantry cabinet and cut it down to the desired height.
Then divide up the remaining space for storage. Our hack assumes that you'll use standard IKEA doors and parts but you can also use custom doors from Semihandmade or another provider.
We recommend using shelving for the upper areas, and a drawer for the middle section. Here, you can use a 5" high low MAXIMERA drawer – a great space for aluminum foil, plastic wraps, or small plastic food bags.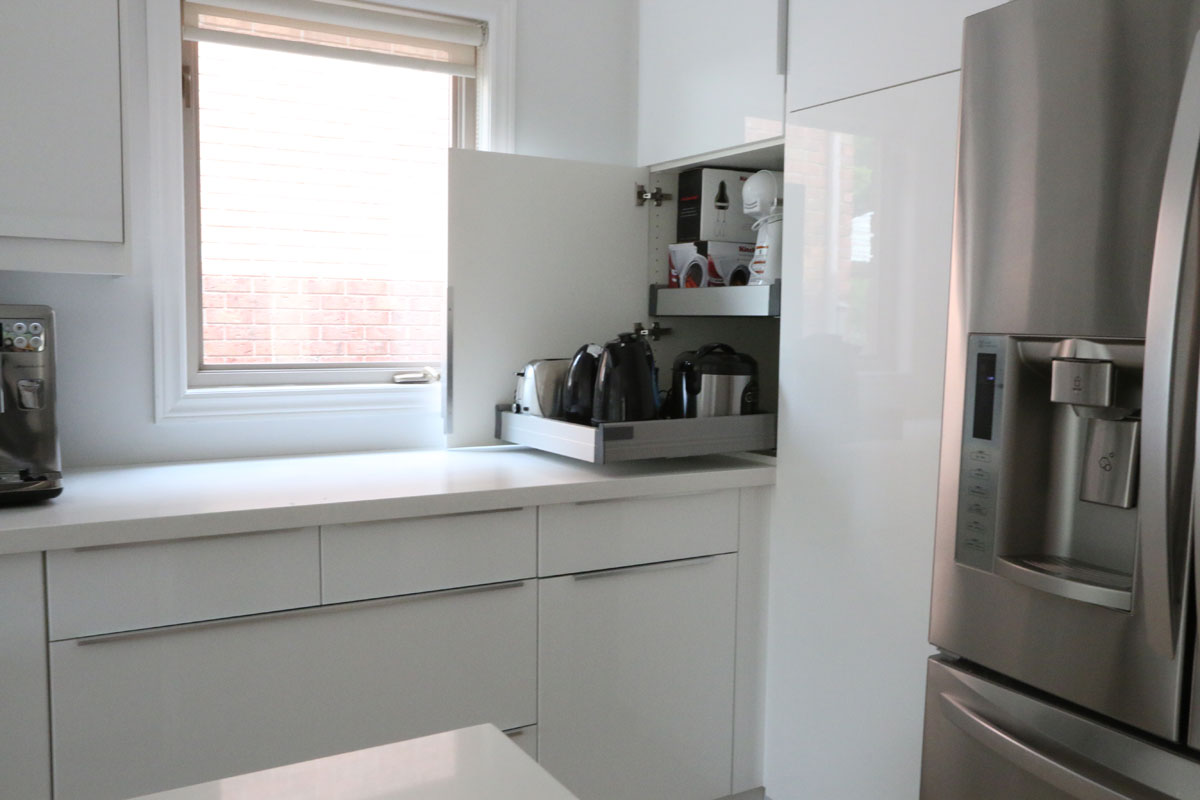 You could also use lift-up hinges for the bottom door of your appliance garage.
Keep in mind though that IKEA doesn't sell hinges like these; you'll have to purchase them separately.
Refrigerator Space
The average kitchen ceiling height is 96" high and most modern refrigerators are 84" tall.
Can we put this short space above a tall refrigerator to work?
Yes!
Even if a standard cabinet doesn't fit there, in the past we've cut the cabinets' height and used drawer fronts as doors, for example. Or if you're using a custom door provider, like Semihandmade, you can request a custom front size to fit this space.
Fillers – To Use or Not Use
This hack is perfect for filling a large empty space in a cabinet run between two walls.
Sometimes, large fillers don't look professional.
If more than 5" is leftover, you can put this space to work by inserting a custom 5" wide cabinet.
But, IKEA kitchen cabinet doors start at 12" wide.
So where are we finding a 5" door?
Well, we're not.
We're taking a low-drawer front and placing it vertically. The low drawer front is 5" high, so when you rotate it 90° you have a 5" wide door.
While IKEA does not sell a 5" wide cabinet there are companies that provide solutions for big fillers and small spaces.
For example, the Rev-A-Shelf Filler Pullout Organizer with Ball Bearing Soft-Close Sink & Base Accessories is available for 3" and 6" base cabinet applications and comes fully assembled.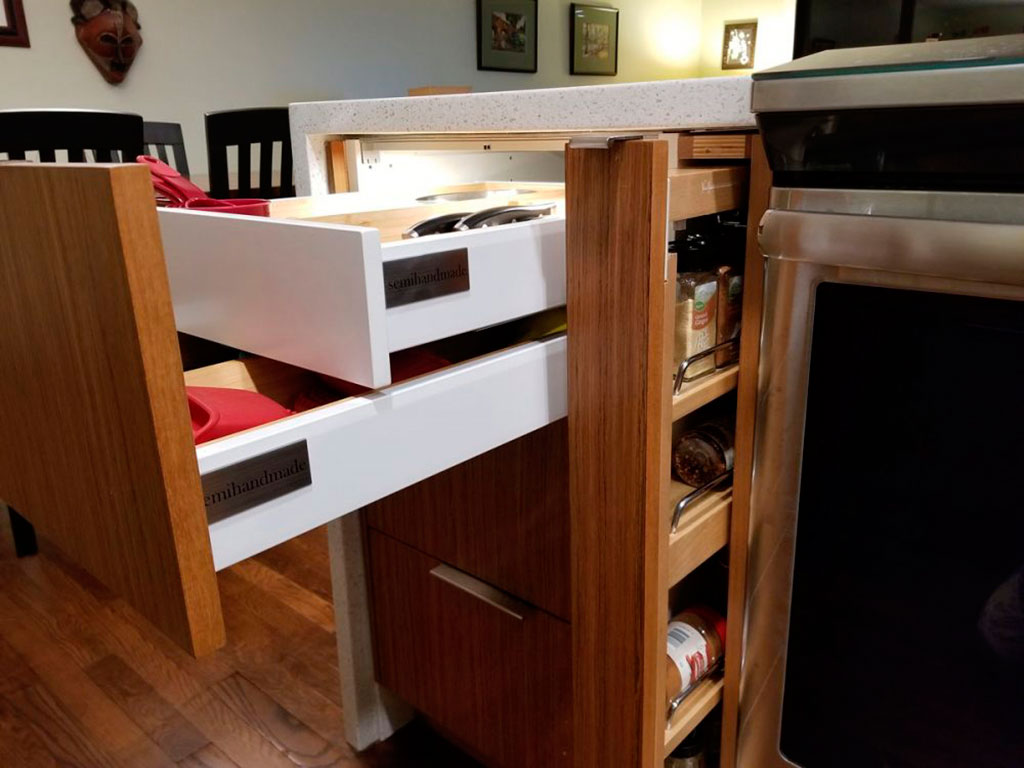 Remember, our design team at IKD will guide you to the products and design that will help you achieve a functional and beautiful kitchen – with room to spare!
Get a Professional IKEA Kitchen Design – All Online

Work with our certified kitchen designers to get a personalized kitchen designed around your needs and vision. If you're interested in learning more about our service, make sure to check out our IKEA Kitchen Design Services.