A Side-by-Side Comparison of IKEA's Leading Drawer Styles
Did you see this display in the IKEA kitchen showroom? On the left you see MAXIMERA drawers, and on the right you see FÖRVARA drawers, and you might also see EXCEPTIONELL drawers. All can be outer drawers and inner drawers, or drawers-within-drawers.
Why choose one kitchen drawer type over the other? The IKEA website explains it, but nothing made it clearer to me than this conversation with an IKEA kitchen sales associate.
IKEA's Kitchen Drawer Types
I waited in line to ask an associate my question (it's an IKEA kitchen sale right now, after all), "Why does the MAXIMERA have curved sides, and FÖRVARA doesn't?"
We'll Design Your Ideal IKEA Kitchen Easily, Affordably, and Online

Our IKEA Kitchen Design Package is everything you need to complete your new kitchen with confidence.
"The MAXIMERA's curved sides work only with the adjustable MAXIMERA drawer dividers which are great for customizing the storage options. With FÖRVARA you can only use VARIERA interior box organizers."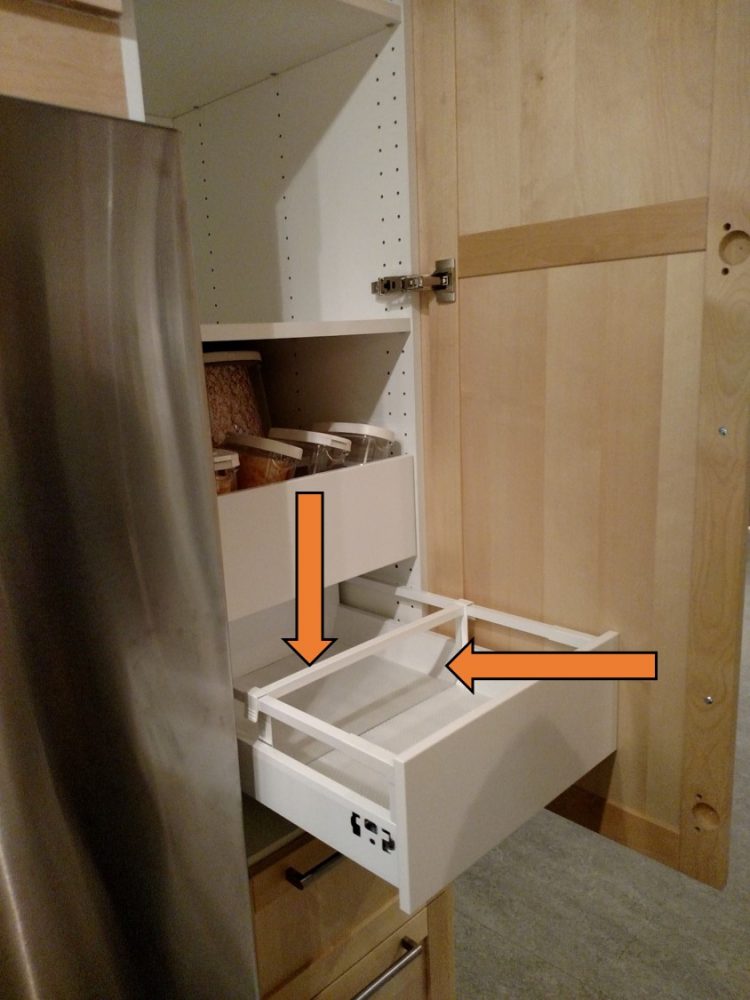 Then she brought me over to this kitchen to show me the FÖRVARA drawers.
She opened and closed the drawers several times while saying,
"FÖRVARA drawers don't have the soft-close like the MAXIMERA. Hear how they just bang shut?
See how they don't pull out as far as you need them to?
If you need to save money the FÖRVARA are fine but otherwise, go for the MAXIMERA. They're nicer."
And if you're going for the seamless look, the EXCEPTIONELL might be better.
So let's take a look at each type of drawer in a little more detail:
MAXIMERA
One of the first things you notice about the MAXIMERA drawer is their curved inside edges, which are designed to be used with the matching adjustable MAXIMERA drawer dividers.
The drawers come in different sizes and can be used easily with a number of different base c cabinets, except for 12" base cabinet and corner base cabinets.
EXCEPTIONELL
EXCEPTIONELL drawers are push-to-open drawers that give a svelte, smooth finish to minimalist kitchen cabinets. They completely do away with the need for knobs or handles, and can even be opened gently with your knee or hip if your hands are full.
FORVARA
FORVARA drawers are the cheaper of the three options and don't quite have the same quality as MAXIMERA drawers. They also don't come with matche interior organizers, although VARIERA interior box organizers can be bought separately.
It's worth noting that FORVARA drawers only open about ¾ of the way, unlike MAXIMERA drawers which open fully.
A Side-by-Side Comparison of IKEA Kitchen Drawers: MAXIMERA vs EXCEPTIONELL vs FÖRVARA