The Pros and Cons of Using IKEA's FÖRVARA Cabinetry in Your Kitchen Design
IKEA offers three different drawer types for their kitchen cabinets: MAXIMERA, EXCEPTIONNEL and FÖRVARA drawers.
In this post we share something you absolutely must know before you choose the FÖRVARA drawers over the EXCEPTIONNEL and MAXIMERA drawers.
This is insider information that could make your life and your IKEA kitchen installation so much easier.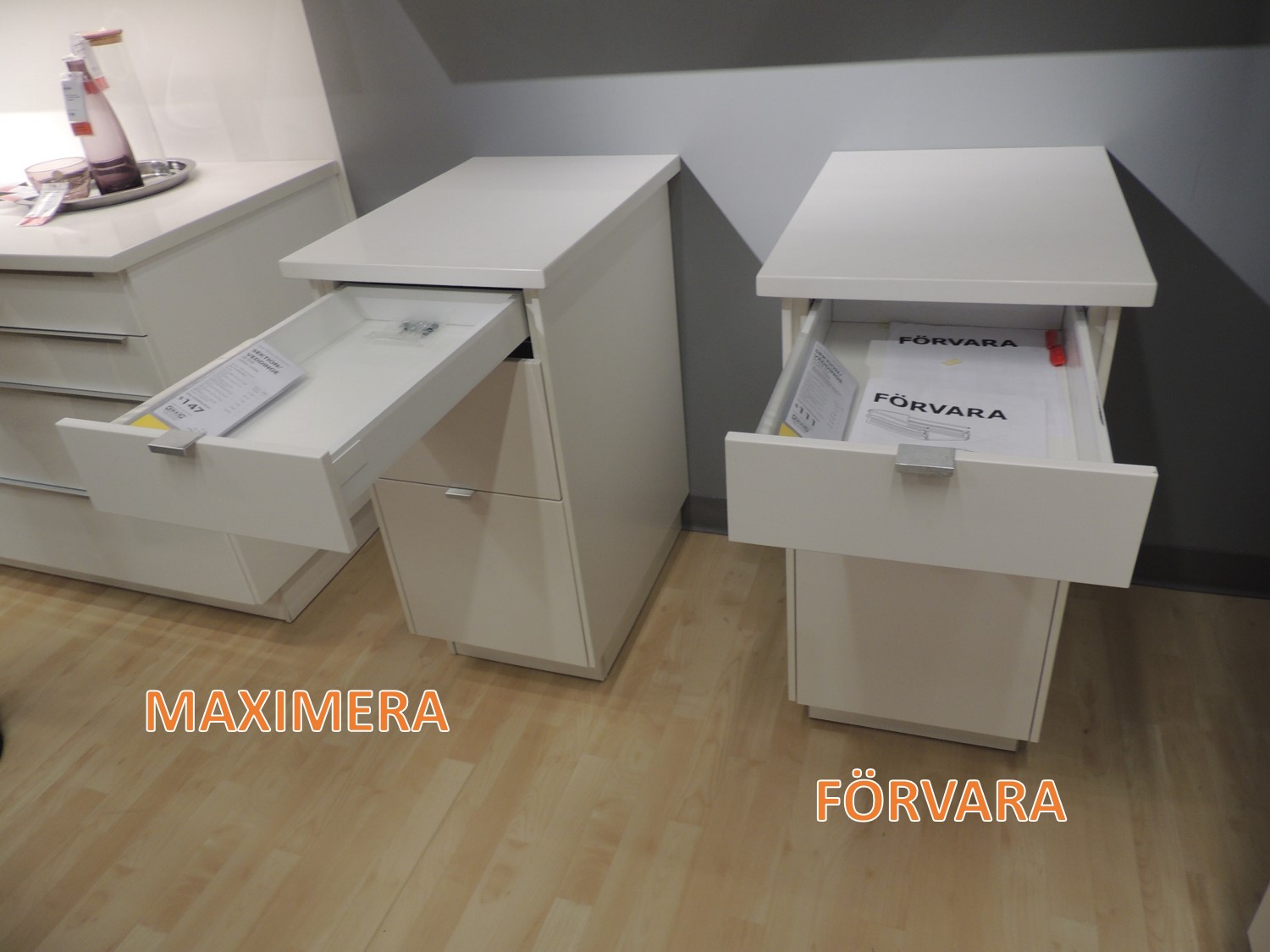 Why Would Someone Choose FÖRVARA Drawers?
FÖRVARA drawers are cheaper than the MAXIMERA drawers. Many people choose them because they want to save money on their IKEA kitchen.
For example, the low MAXIMERA drawer (24×24) is $37 on the IKEA website right now. The low FÖRVARA drawer in the same size on the other hand is $24.
You can see where the savings would add up if you choose to fill your IKEA kitchen cabinets with FÖRVARA drawers instead of MAXIMERA drawers.
We'll Design Your Ideal IKEA Kitchen Easily, Affordably, and Online

Our IKEA Kitchen Design Package is everything you need to complete your new kitchen with confidence.
Will FÖRVARA Drawers Really Save You Money? There's a Catch
Our most popular blog post explains the differences between the three drawer types from a design point of view.
But a couple of days ago a loyal reader dropped us a note to let us know about his installation experience with FÖRVARA drawers.
Trey did not have a good experience. At all. We're so glad he wrote us to tell us about it that we're making this blog post about it.
Customer Verdict: FÖRVARA Drawers Are Not Worth the Savings
Take it away, Trey: (we edited this only slightly)
"Having just installed an entire 400 of IKEA kitchen by myself, I would like to add my experience.
"Long story short I used the planner to design everything and ended up exchanging one cabinet. I was nearly done with the kitchen installation when I got to this cabinet and discovered it was all FÖRVARA and everything else I had done was MAXIMERA.
The planner marks the drawer styles as MA and FO and I didn't know the difference or that my other cabinets had all been MA.
"I had been able to fly through building and installing the MA drawers, they are all snap together metal, predrilled holes, nearly error proof, and easy to go back a step or two if you need to adjust your customization.
"It took me almost THREE TIMES LONGER to build the FO drawers. Assembling the FÖRVARA was:
Nowhere near as user friendly or error proof, because they require going outside the predrilled holes with (included) templates and using wood screws in the drawer faces
Less forgiving if you have to go back a step
Involved mostly plastic parts
Required removal of the base cabinet interior hardware covers
Not as substantial feeling
Harder to clean crevices
And I had no idea how loud these cabinets bang without the MA softclose
"If it wasn't such a long drive to IKEA and I had the time I would return the FO for the MA. The slight amount you save on FO will cost you much more in quality, time, and frustration."
Bottom Line: FÖRVARA Drawers Mean Possible Errors When Installing Your IKEA Kitchen
That first bullet really alarmed us so we contacted Gill Thomas of CA&I IKEA Kitchen Assembly Specialists, an IKEA kitchen installer in Atlanta, to confirm what it meant.
Gill is one of our independent kitchen installers in the Atlanta, Georgia area. He just happened to be right outside an IKEA store because – we can't make this stuff up – he's in the middle of installing one of our customer kitchens.
He went inside to snap a picture just for us and became our Install Connect installer of the year. Seriously, how great is Gill?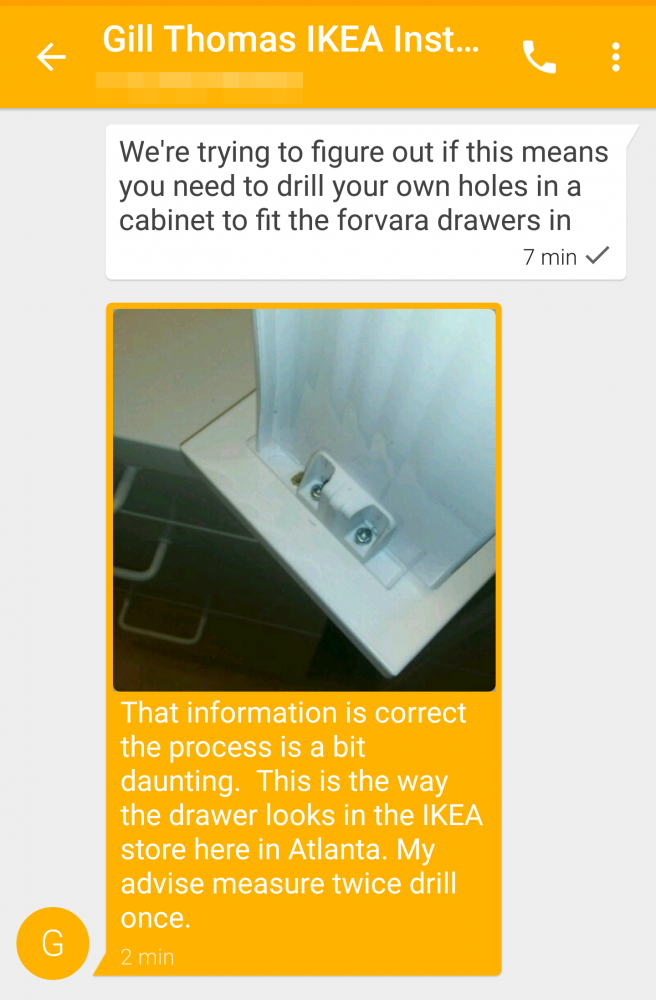 Gill really goes the extra mile! Thank you so much! (If you're looking for an IKEA kitchen installer in Alabama, Florida, Georgia, South Carolina, or Tennessee he's the guy you want!).
As for Trey's other points? They come down to personal preference although I can't say any of us here at IKD want it to be harder to keep a kitchen clean.
Trey, we so appreciate your insider information. You've vastly improved the IKEA kitchen experience for so many people.
Trey's Problem Was Caused by the IKEA Home Planner
Trey used IKEA's free kitchen planning tool, the Home Planner. That's how he ended up with a rogue cabinet with FÖRVARA drawers even though the others all had MAXIMERA.
If you've ever looked at one of the Home Planner files, you know how tiny and unnoticeable the FO and MA text was. No wonder he missed it.
This is one of the many ways that the IKEA Home Planner is a real pain in the buttski, and why IKD's kitchen design is better. We think people should, ahem, hire us instead of attempting this on their own.
We hate to think of a nice person like you or Trey ending up in such an aggravating position!
Did You Choose FÖRVARA Drawers? We Want to Hear About Your Experience
As you can see, we really want to make the experience of buying an IKEA kitchen as stress-free as possible. That's why we highlight customer experience stories, such as this upstate New York kitchen renovation and the lessons learned from this luxurious kitchen renovation, as much as we can.
Even if you're not an IKD customer, we want to hear from you. Did you choose FÖRVARA drawers? Are you happy with them? Why or why not?
Get a Professional IKEA Kitchen Design – All Online

Work with our certified kitchen designers to get a personalized kitchen designed around your needs and vision. If you're interested in learning more about our service, make sure to check out our IKEA Kitchen Design Services.