Even the Toughest Challenges Can Be Overcome With the Right Design Collaboration
When Nastia's San Francisco, CA, home was flooded, it gave her a perfect opportunity to make a big splash with her remodel project and create an IKEA wet bar with help from our kitchen designers.
"Our house got flooded and the piece of furniture we had in that space got ruined. The whole area was empty and had to be remodeled. I wanted something beyond just simple cabinets and I wanted some cool ideas."
So with a budget of $2,500 she began searching examples of wet bar designs on IKD's Pinterest and reading blogs about IKEA (and its favorable price points).
"The space functions as a playroom/TV room/family room area and needed to work with the existing layout; provide space for a drinks fridge; and create as much storage space as possible."
The solution for Nastia and her husband was to work with our experienced design team to create a unique, nearly seven-foot-long IKEA wet bar as part of a whole downstairs remodel.
To accomplish this, she chose IKEA's SEKTION cabinetry framework with pullout drawers and shelves along with Semihandmade's DIY fronts custom painted in Deep Blue.
The upper cabinets feature 'pull-up doors' on top of the cabinets while the base cabinets complement a wine fridge that the couple bought on Amazon. And her research paid off as her IKEA product choices cost her only $1,192.72 — well under budget!
"We also reused the kitchen sink and the faucet we already had in the kitchen," she adds.
However, since the design layout was a very specific space it presented some challenges for her and the design team.
"I didn't know if we could fit in everything. It's a lowered ceiling and niche, so it was a space that couldn't be changed."

"Another obstacle was to fit everything in time wise because we had to wait until some of the remodel was done first."
We'll Design Your Ideal IKEA Kitchen Easily, Affordably, and Online

Our IKEA Kitchen Design Package is everything you need to complete your new kitchen with confidence.
Also they wanted real butcher block countertops and had initially found a local IKEA kitchen installer. But he didn't install countertops with sinks or install sinks at all.
So, the couple had to learn how to cut a butcher block and install their sink by watching YouTube videos.
"We cut it ourselves (we are not experts by any means) and we even learned how to sand it and oil it. It looks great!"
We definitely agree with Nastia, and glad you enjoy it.
Let's take a look at how Nastia's IKEA wet bar came together!
Making a Splash with an IKEA Wet Bar
This unique IKEA wet bar fulfilled all of Nastia's wishlist in style.
"Houses in this area are not super big so the storage space is really important. "Before we added the wetbar we had an old and odd piece of furniture that was completely non-practical for this space."
To that end, the wet bar really needed to store items, like plates and cups, so the couple could easily take items to the backyard during gatherings or when grilling.
"Plus, our kids spend a lot of time downstairs because it's their playroom. To help them out, I dedicated a drawer for them to keep plastic cups for drinking."
IKD's design team recommended IKEA's SEKTION with pullout drawers and shelves along with custom door fronts from Semihandmade.
This is also an example of why The New York Times recommends us as a design resource for customers considering custom doors for their cabinets.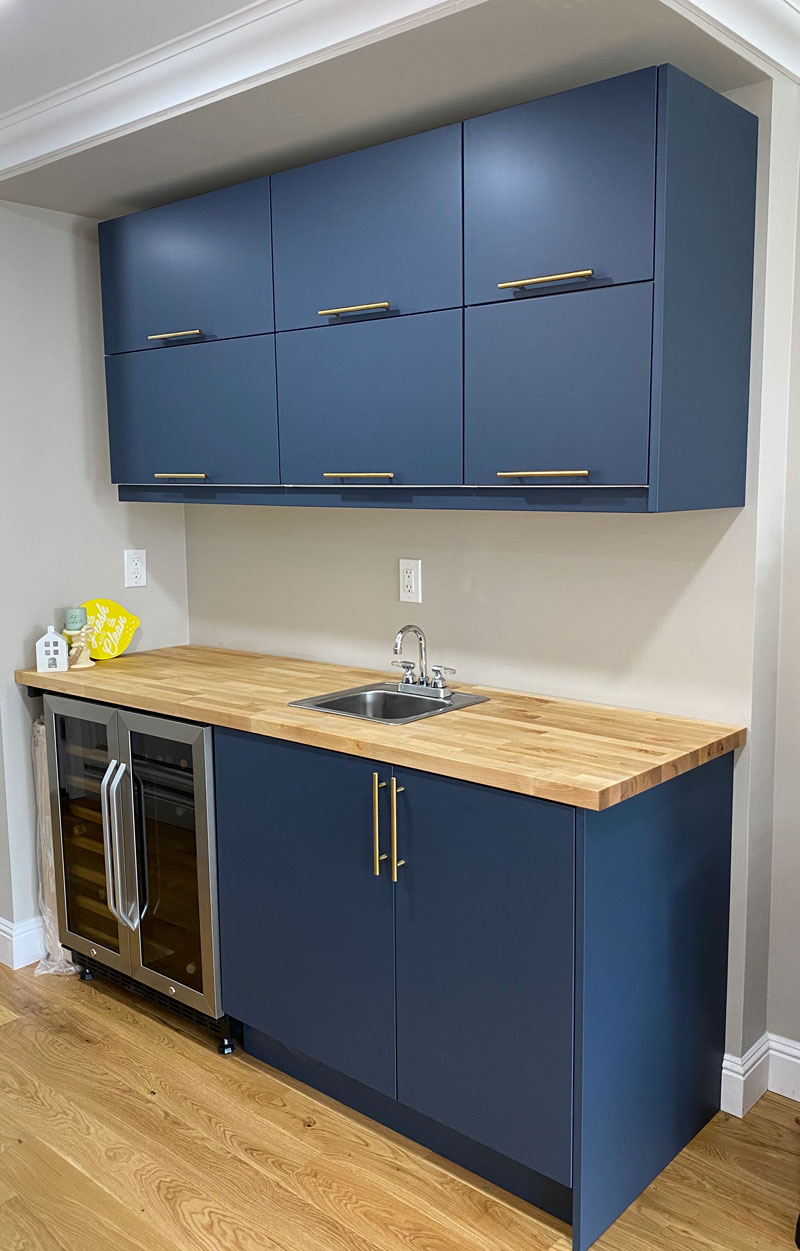 Wet Bar Cabinets
As mentioned above, storage space is extremely important for any wet bar, and so upper and base cabinets should form the basis of a comprehensive wet bar design.
The upper IKEA cabinets with the pull-up function, a similar set up used in these three kitchen cabinet designs, makes storage accessible while tucked against the dropped ceiling.
In addition, the custom base cabinets are convenient for the kids to grab cups for drinks from the under counter refrigerator.
"My favorite part is to get a drink from the drink fridge when we watch a movie together. It's not a part of our main kitchen, but it supports the main kitchen's storage."
She even notes that they recently added an aquarium for the kids on the wet bar counter as well.
Talk about making a splash!
Cut to Fit
Perhaps the most impressive aspect of this IKEA wet bar is that they cut the butcher block countertops themselves.
She explains:
"We started the journey thinking we will get a pre-cut countertop from IKEA. However, we found out that IKEA doesn't have a real butcher block and we had to have a specific type of sink for the real butcher block to work."
Therefore, the couple had to adjust some of their layout plans, including having to reconsider the sink and still find a butcher block for their countertops, which they eventually purchased from Home Depot.
To fully understand how to cut the countertops, Nastia's husband watched YouTube videos and purchased some new tools to do the cutting as well.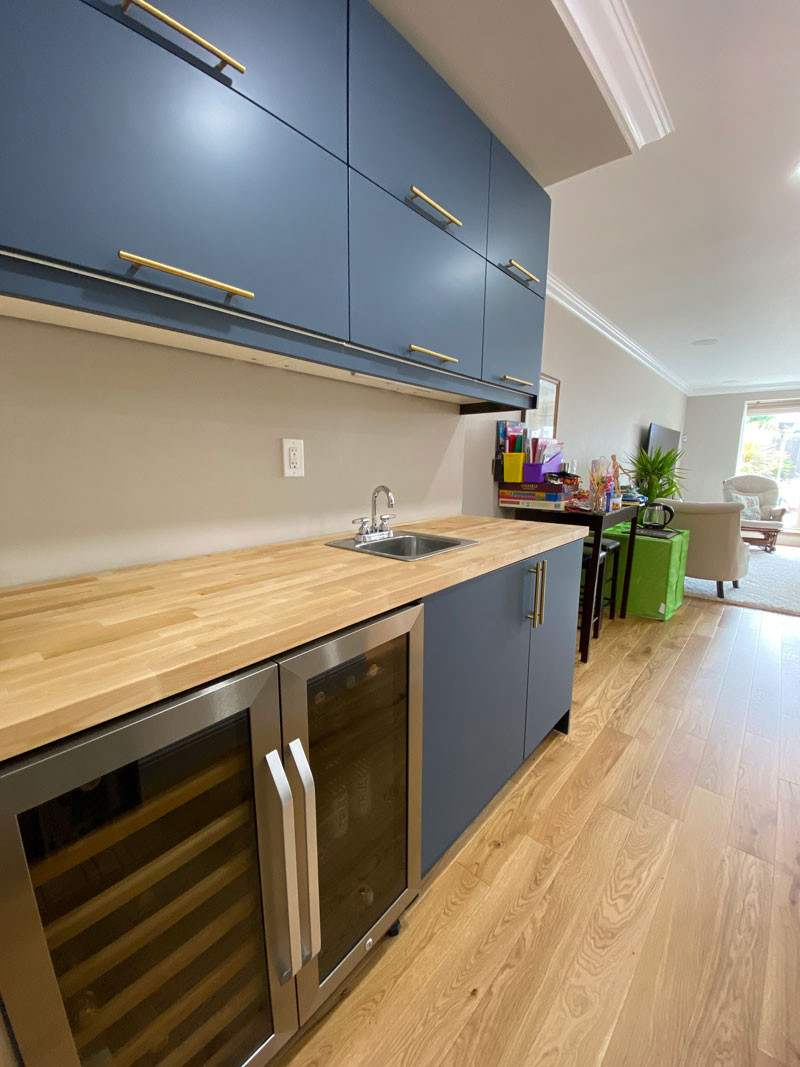 "Since we bought an unfinished one, my husband also had to learn how to sand and oil our new butcher block. We used mineral oil on it, per instructions. Oiling it first every day, then once a week, then once a month. It was intimidating at first, to cut the hole for the sink. But, once we started and moved slowly it became less stressful."
Parting Advice on Wet Bar Design
According to Nastia, one tip for designing a dream IKEA kitchen is simple: Don't give up.
"The small hiccups we ran into were a bit too much, but it was on top of dealing with a flood. I really insisted on the blue cabinet doors and it was totally worth it, it made a huge difference,"
She concludes:
"Overall, I love the custom doors recommended by the designer (I would never have heard about Semihandmade otherwise). And I love the combination of Deep Blue with golden pulls. It creates a certain elegance in the entire space."
Get a Professional IKEA Kitchen Design – All Online

Work with our certified kitchen designers to get a personalized kitchen designed around your needs and vision. If you're interested in learning more about our service, make sure to check out our IKEA Kitchen Design Services.