A Fully Organized IKEA Master Bathroom Can Be Achieved with the Right Products and Ingenuity
A proper master bath is a place meant to help you recharge, retreat or refresh.
But, sometimes the space itself needs to be freshened up.
Therefore, people looking to remodel their small bathrooms should know that there are many design and storage solutions available to update an IKEA bathroom.
Whether utilizing IKEA's GODMORGON bathroom series, using IKEA's SEKTION cabinets, selecting custom cabinetry to create a one-of-a-kind bathroom element, or incorporating IKEA organizers for better bathroom organization, we can make it work.
And if you've been researching bathroom design ideas on HOUZZ or other design Web sites, know that IKEA cabinets are also a budget-friendly way to achieve your desired design.
So bring us your IKEA bathroom design idea and we'll design a fully organized IKEA bathroom for you.
Let's see how it's done!
Getting Started with IKEA GODMORGON
A good place to start with your IKEA bathroom – especially if you're looking for a transitional look – is IKEA's GODMORGON bathroom series of wall cabinets and furniture sets.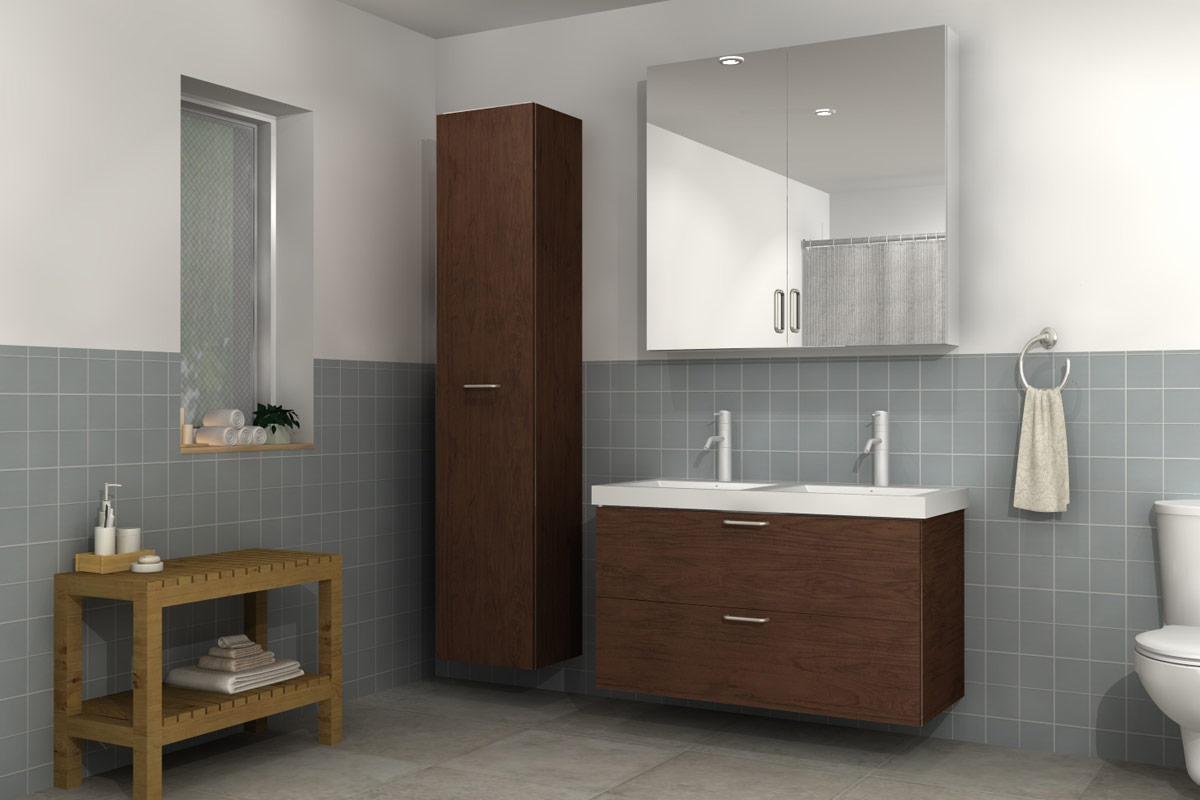 With the GODMORGON floating vanities a clean, minimalistic look is easily achievable. (The GODMORGON series is available with legs sold separately.)
We'll Design Your Ideal IKEA Bathroom Easily, Affordably, and Online

Our IKEA Bathroom Design Package is everything you need to complete your new bathroom with confidence.
What's especially nice about the GODMORGON series is that it's complemented well with other IKEA door styles as well as compatible countertops and integrated sinks.
For instance, you can select an entire furniture set of GODMORGON/TOLKEN/KATTEVIK in light gray, marble effect Voxnan; which combines a modern look and ample lower storage for hand towels, a hair dryer and shaving supplies.
Plus the high cabinet's glass doors make it easy to see inside the cabinet, the company notes.
On top of that, the round shape of the sink is a nice contrast to the rectangular shapes of the furniture and provides space for toothbrushes, a soap dispenser and other smaller things next to the sink, according to the IKEA Web site.
Other available furniture sets include GODMORGON/ODENSVIK; GODMORGON/RATTVIKEN and GODMORGON/BRAVIKEN.
Customs Styles with IKEA SEKTION Cabinets
Looking for a more budget-friendly option?
Consider that IKEA's SEKTION cabinets can be hacked to fit your IKEA bathroom.
Specifically, SEKTION can provide alternatives for storage solutions, like pullouts, customized units and open storage, for example. They can even lend your bathroom a high-end look.
The IKEA bathroom we designed for IKD customers Tom and Claire from Tampa, FL is one example.
They wanted a "cool bathroom with open storage," and by using clever hacks with SEKTION cabinetry, we achieved it.
There's a floating vanity with two pullout drawers for storage of his-and-hers sup-plies, for example.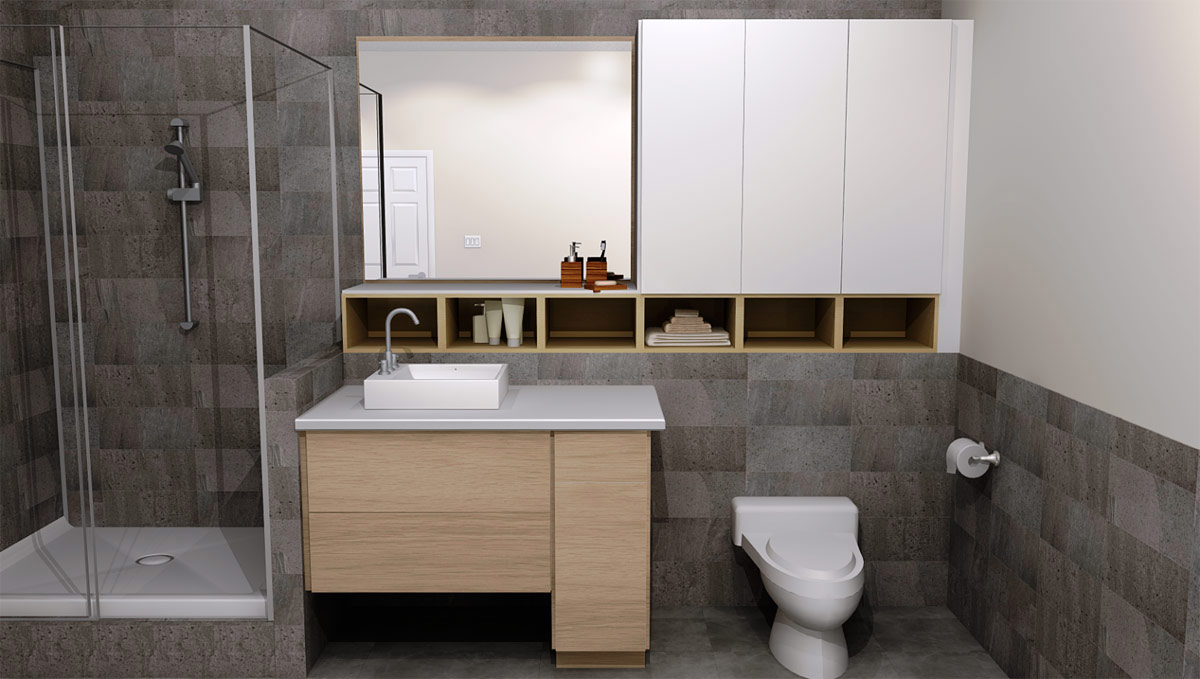 Another solution was to incorporate custom storage units above the vanity, which provided individual cubbies for lotions, soaps and decorative items.
This put everything within arm's reach, making the bathroom safer, stylish and packed with storage.
Custom Cabinet Fronts Can Take Your Bathroom to the Next Level
IKEA hacks are sometimes limited by the limitations on door and drawer sizes if you are using SEKTION cabinets.
So, if you want another option for your bathroom, consider custom cabinetry.
Using fronts from custom cabinet manufacturers like Semihandmade; Scherrs; Reform or Kokeena, will do just that.
And check out this New York Times article that references us as a unique design solution for customers considering custom doors.
These companies provide IKEA's standard fronts sizes. We know how to use custom fronts to avoid wasted inches (reduce fillers) and provide unique IKEA storage.
Just like we did for IKD customers Rich and Tanya from Long Island, NY.
For their space we fitted their narrow master bathroom with a floating vanity in white that was attached to adjacent custom cabinetry from Semihandmade.
The vanity provides storage with two large pullout drawers on the bottom; perfect for beauty supplies.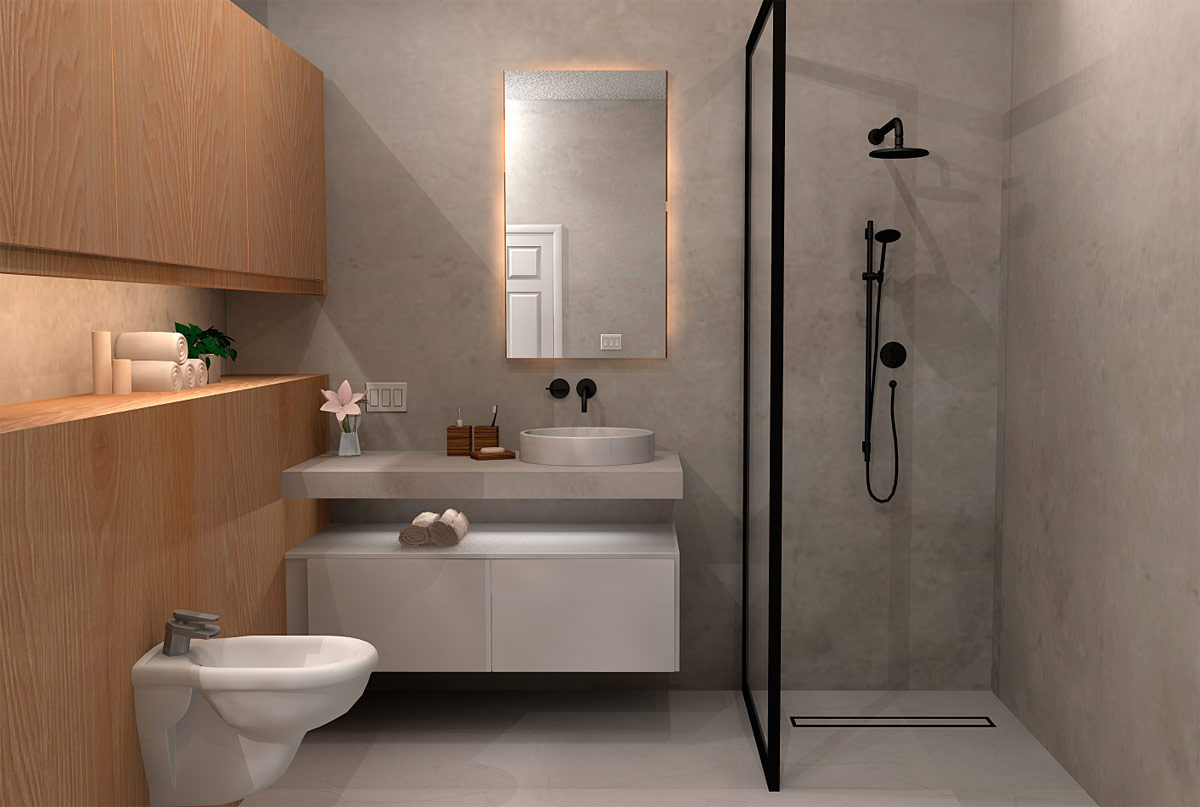 The custom cabinetry also provides storage for their towels and has a well-lit shelf for hand towels.
"We love the storage options we have in our bathroom, it makes everything easier and a great space to de-stress!"
Tanya concludes.
Organizing Your Bathroom with IKEA Accessories
As we've said an effective IKEA bathroom really needs storage.
Therefore, we recommend using IKEA accessories for a fully organized IKEA bath-room.
Many times, they are simple items that can be both decorative and functional.
For example, consider the IKEA HEMNES bench with an underneath storage area to keep towels nearby; or the IKEA LUSTIGT ladder shelf to house hand towels or bath toys in a children's bathroom.
Other options include the IKEA BRANAS laundry basket, the IKEA RASKOG utility cart (perfect for storing towels and soaps), or even the IKEA LUSTIGT arts and crafts storage caddy, which would be ideal for grooming supplies, such as shaving kits, razors and makeup kits.
As you can see, clever solutions are just a click away.
It just takes a little "outside-the-box" thinking to make things fit for your new IKEA bathroom!
Get a Professional IKEA Bathroom Design – All Online

Work with our certified designers to get a personalized bathroom designed around your needs and vision. If you're interested in learning more about our service, make sure to check out our IKEA Bathroom Design Services.