I consider countertops to be the cherry on top of your kitchen renovation.
Your countertop selection can elevate your kitchen and complete that industrial, farmhouse, modern, traditional, you-name-it look you wanted for your kitchen.
It is my humble opinion that IKEA's countertop materials are generally underrated.
Today, I'd like to share what I know about countertops so when the time comes you can make a well-informed decision.
So, let's start with the basics and take a look at what IKEA has to offer.
IKEA Pre-Cut Countertops vs Custom Countertops
IKEA pre-cut countertops come in standard dimensions and are readily available for purchase.
Either laminate or wood, IKEA offers a wide variety of styles, texture effects, and colors.
HAMMARP oak is the only solid wood countertop IKEA offers; the rest are made out of a particle board with a top layer of wood, such as KARLBY birch, PINNARP ash, SKOSGÅ oak, BARKABODA walnut, and more.
The main difference is the thickness of the board – solid wood HAMMARP oak is 1 1/8" while the wood finished ones are 1 ½" thick.
Also pre-cut, laminate countertops are a great choice and the perfect solution for limited budgets.
They are easy to clean and maintain, and you can choose between a broad range of options to complement the look of your kitchen, like EKBACKEN white marble effect, SÄLJAN black mineral effect, EKBACKEN concrete effect, HÄLLESTAD double sided, etc.
As with wood countertops, the thickness varies depending on the style.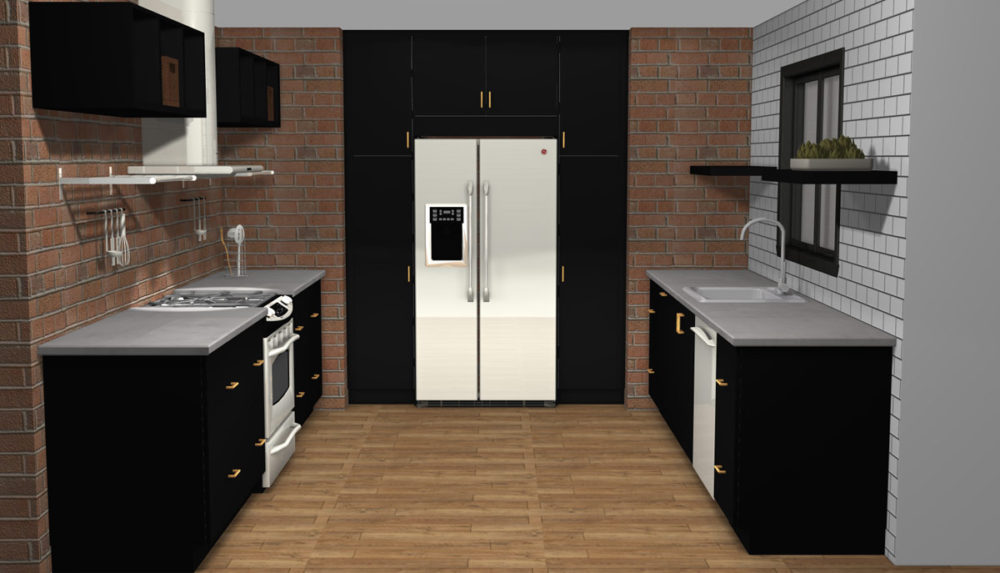 For larger budgets, IKEA also offers custom countertops made out of Quartz. They have many beautiful colors and you can also select the edge style. They can also be enhanced with the correct installation of IKEA under cabinet lighting.
Their KASKER Quartz is extremely durable, resistant and non-porous, which is why it's become such a popular material. Possibilities are endless with custom countertops.
We'll Design Your Ideal IKEA Kitchen Easily, Affordably, and Online

Our IKEA Kitchen Design Package is everything you need to complete your new kitchen with confidence.
Additional Considerations for IKEA Pre-Cut Countertops
IKEA pre-cut countertops have very limited usage.
Due to their size and limited depth, they can essentially only be placed against a wall.
You need to take into consideration that all wood countertops have a beveled edge so this will create a gap when two slabs are joined together.
While you can cut the slabs to the desired length, you need to be super careful to avoid having a seam under the sink, over the dishwasher or cooktop.
Last but not least (and the biggest bummer in my opinion): you cannot use under-mount sinks with any of IKEA's pre-cut countertops.
Now I know what you're thinking: IKEA's DIY (Do It Yourself) spirit should be more of an FIY (Figure It Yourself) one!
Understanding IKEA Countertop Dimensions
IKEA pre-cut countertops come in standard lengths of 74" or 98", and, what's most important, a standard depth of 25-5/8".
These sizes greatly reduce their usefulness and flexibility of where they can and can't be placed.
The depth limitation and the fact that they are not finished on the back makes them a no-go for kitchen islands or peninsulas.
Advantages of IKEA Pre-Cut Countertops
The great benefit of countertops with a top layer of natural material is that they can be sanded and treated when required; so don't be discouraged by the cons. There are also some benefits that make them an attractive option:
IKEA also has the KARLBY countertop for kitchen islands. This is the only pre-cut material they offer for islands, as it comes in 42" of depth. But it doesn't come with edge banding, so you must use the full length of the slab.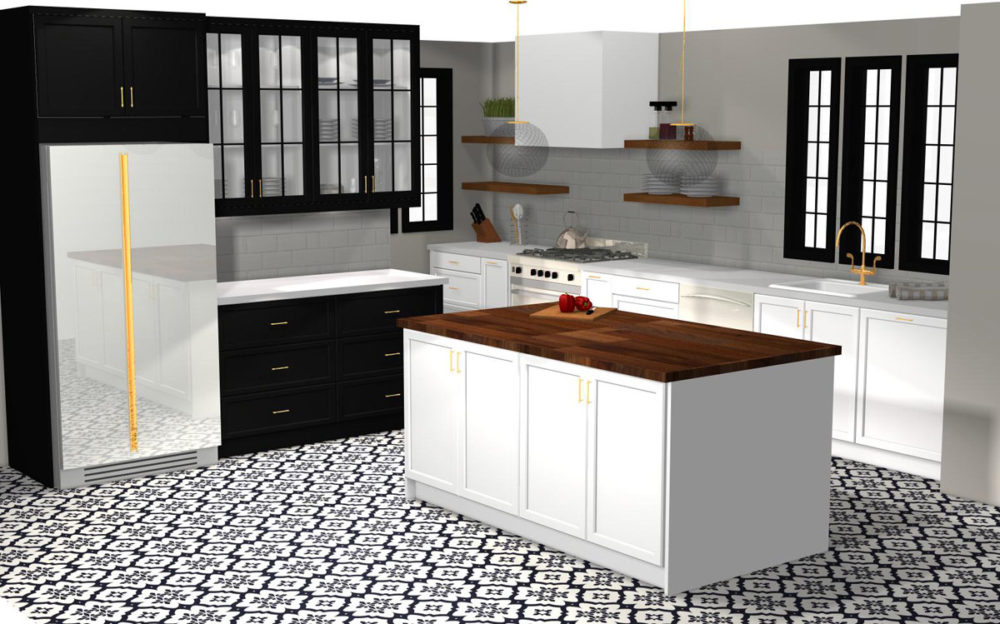 Can You Cut IKEA Pre-Cut Countertops?
As with wood, laminate countertops CAN be cut in length. They all come with two edging strips that you can use to finish the cut edges.
Having a modest budget doesn't necessarily mean you must compromise your kitchen's look and style. IKEA's wide variety of laminate countertops can help you achieve a great look for your kitchen at a reasonable cost. Of course, it's not polished concrete or Carrara marble but you get the point.
So, think twice when planning your kitchen – you might want to browse around and consider IKEA countertops.
Get a Professional IKEA Kitchen Design – All Online

Work with our certified designers to get a personalized bathroom designed around your needs and vision. If you're interested in learning more about our service, make sure to check out our IKEA Bathroom Design Services.