This Post May Contain Affiliate Links. Please Read Our Disclosure Policy here
When you read my new book, A Lovely Life, I hope you will feel inspired to walk in your home and leave the stress of the world on the other side of the door. You are worthy of a lovely life. A lovely life isn't about having it all, but rather about finding peace, joy and beauty in little things around you (some that perhaps no one but you and the people you love would even notice!).
I've asked few blogging friends to host some fun GIVEAWAYS and join me both today and Thursday in sharing a few things that make their own lives feel more lovely to them! I'm so excited they will be a part of this Lovely Life Book Tour. You'll love getting to know these ladies and find a lovely GIVEAWAY at each stop, too! You can enter them all!
I'll share all the links to the tour participants later in this post! There are great giveaways at every stop on the tour, so be sure to enter each one!
I learned to savor more beauty and simplicity over the years through seasons of anxiety, an auto-immune disease, loss, as well as the stress and the challenges of life (I wrote specifically about those seasons in my book Dwelling and my journal Dwelling Well).
Putting on my rose colored glasses so I can better appreciate even the ordinary beauty in front of me has helped me down a path of healing and more gratitude. Embracing my own sustainable rhythms at home reminds me to be present in what brings joy in each season, even through the inevitable difficult times in life.
I hope the desire to create your own lovely life will resonate with you, too.
A lovely life isn't an unattainable one. It's for everyone. It's about savoring simple pleasures at home. It's about slowing down to a more soul-filling rhythm in every season so we don't feel like we never can catch our breath or have time to do or even notice the things that make life feel beautiful to us.
My new book, A Lovely Life, isn't a manual to teach you how to live! How you do that is up to you! Everyone will find beauty in life in unique ways, but I hope the simplicity of the messages will spark some ideas or mindsets that can inspire you for how you want to savor your own lovely life.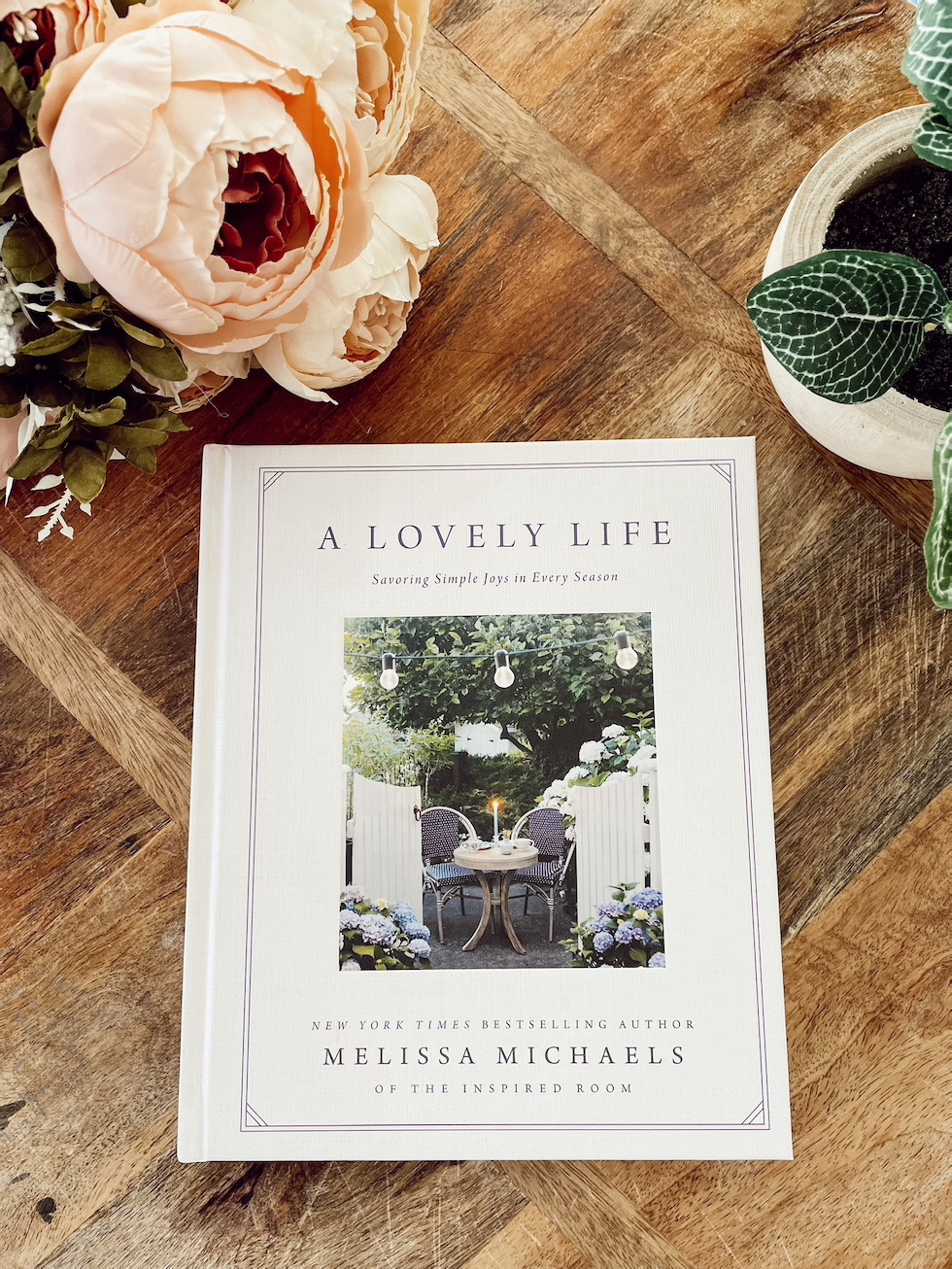 You can pre-order A Lovely Life today (you will not be charged until the book ships). Not only does it help me tremendously as an author to have pre-orders (thank you!) but we have a fantastic gift for you just for pre-ordering by May 5th!
I created the Lovely Life Seasonal Planner to be a wonderful customized companion resource for you as you read the book. It's downloadable and it will be available immediately when you pre-order, so you can even start planning your seasons right away, before your book even arrives!
Order the book here or wherever books are sold and then go HERE to get your planner and a free botanical art print you can use for your Lovely Life notebook, your wall, or an inspiration board!
I've written 11 books on the home and how to feel your best in it, so if you resonate with the simplicity of these concepts, you might find inspiration in all of my books! Each one might benefit you or someone you love in a unique way in every season of life.
Enjoy the tour posts today and be sure to enter each of the lovely bundle giveaways on Tuesday and Thursday including a grand giveaway of a set of my books!
ENJOY THIS WEEK'S LOVELY LIFE BOOK TOUR
Start with today (click each link below) and find the next three stops on the tour!
Tuesday April 26th:
The Inspired Room
She Gave it a Go (Lovely Book Giveaway!)
Shiplap and Shells (Lovely Garden Bundle Giveaway!)
Robyn's French Nest (Lovely Morning Routine Bundle Giveaway!)
Thursday April 28th:
The Inspired Room
Grace in My Space (Lovely Book Giveaway!)
Rooms for Rent (Lovely Gatherings Bundle Giveaway!)
Southern Hospitality (Lovely Evening Routine Bundle Giveaway!)
Each of the ladies on this Lovely Book Tour are women who inspire me to make my own life more lovely, so I'm thrilled to introduce them to you. I know they will inspire you, too.
You can enter the book giveaway on the form below, and on the first stop today and Thursday. Be sure to enter all the giveaways this week on each blog in the tour!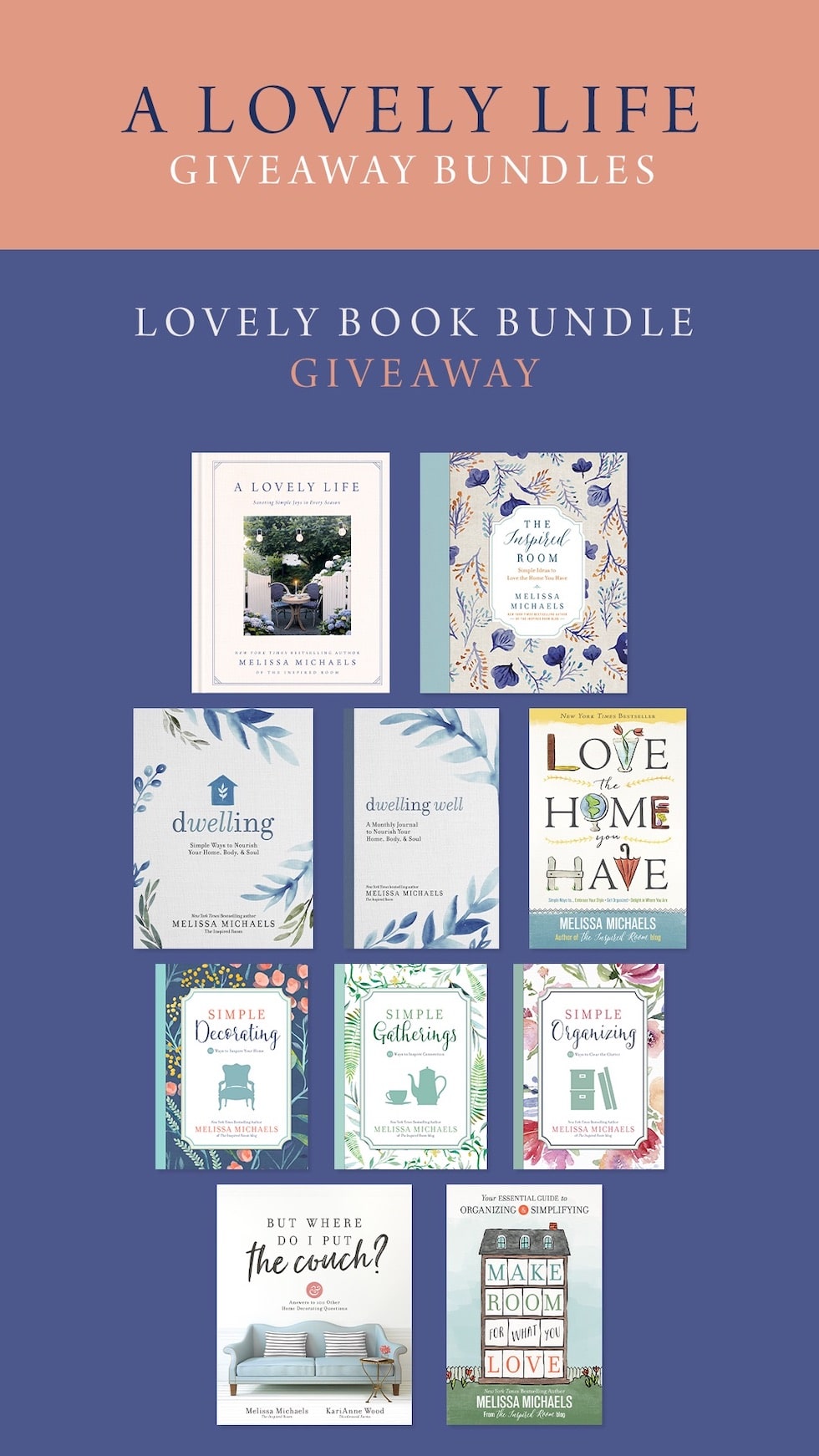 USE THE FORM BELOW TO ENTER THE BOOK GIVEAWAY:
Next up on the tour, visit She Gave it a Go! Click HERE and be sure to enter the giveaways at each of the tours this week!
Come here to the blog this week and I'll direct you to more giveaway opportunities–get a sneak peek of all the dreamy giveaway bundles below!
---