Exploring three common kitchen layouts to kick off your IKEA remodel
When it comes to remodeling your kitchen with IKEA cabinetry, it's important to understand what can and can't be done with your existing footprint. Do you have a tiny galley but want "open floor plan living" with an L-shaped layout? Or maybe your kitchen is big enough, but the appliances and cabinetry just aren't syncing up with the way you cook, entertain and live. Sometimes sorting out what you can actually do with your existing kitchen becomes the biggest pain point of a remodel. It's important to have a realistic and objective idea of what kind of layout will work for your home to both stay on budget (yikes!), and create a great looking space that is relevant to the way you live and use your kitchen. Once you work out the layout for your space, the rest will be infinitely easier and begin to fall into place.
The Lay of the Layout Land
There are three favored layouts for the kitchen. They remain tried and true for their functionality and their ability to integrate so well into the landscape of your house, apartment or condo. As we explore the dimensions of each layout, be sure you're keeping your dream ideas anchored within the practicalities of square footage, shape, and how you actually use the kitchen. Let's take a closer look at the three most popular kitchen layouts and see which one is the best fit: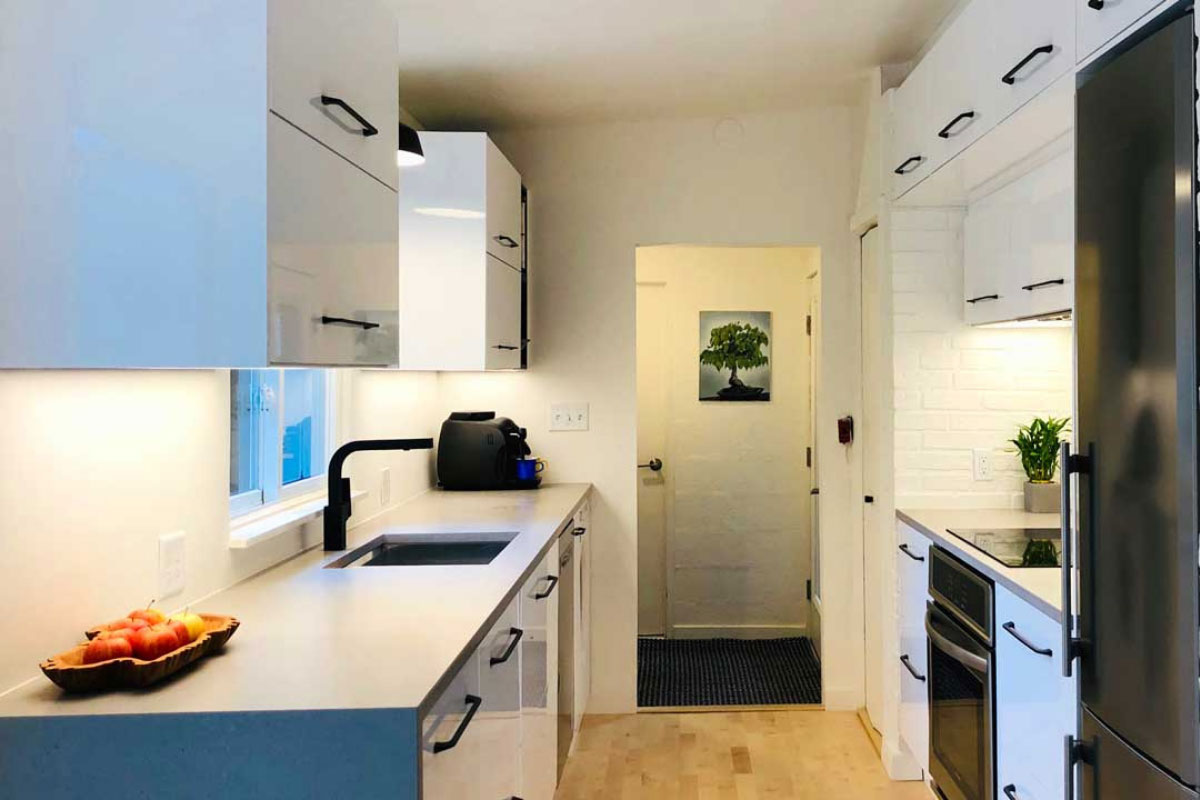 Galley: Considered the most efficient of all designs, the galley kitchen is built to be as functional as possible. Made up of two parallel counters, the traditional galley kitchen generally has cleaning fixtures on one wall and appliances along the other. The layout is incredibly user friendly as everything needed to work in the kitchen is within reach. Though not ideal for cooking with others, the design is a fantastic option for smaller spaces (you'll see galleys galore in NYC apartments). If you're working with a galley, your biggest challenges will be to ensure the aisle is large enough to work with ease and that you have some solid design solutions for storage. You can check out a couple of our favorite galley kitchen makeovers here (this one has a great banquette hack!) and here.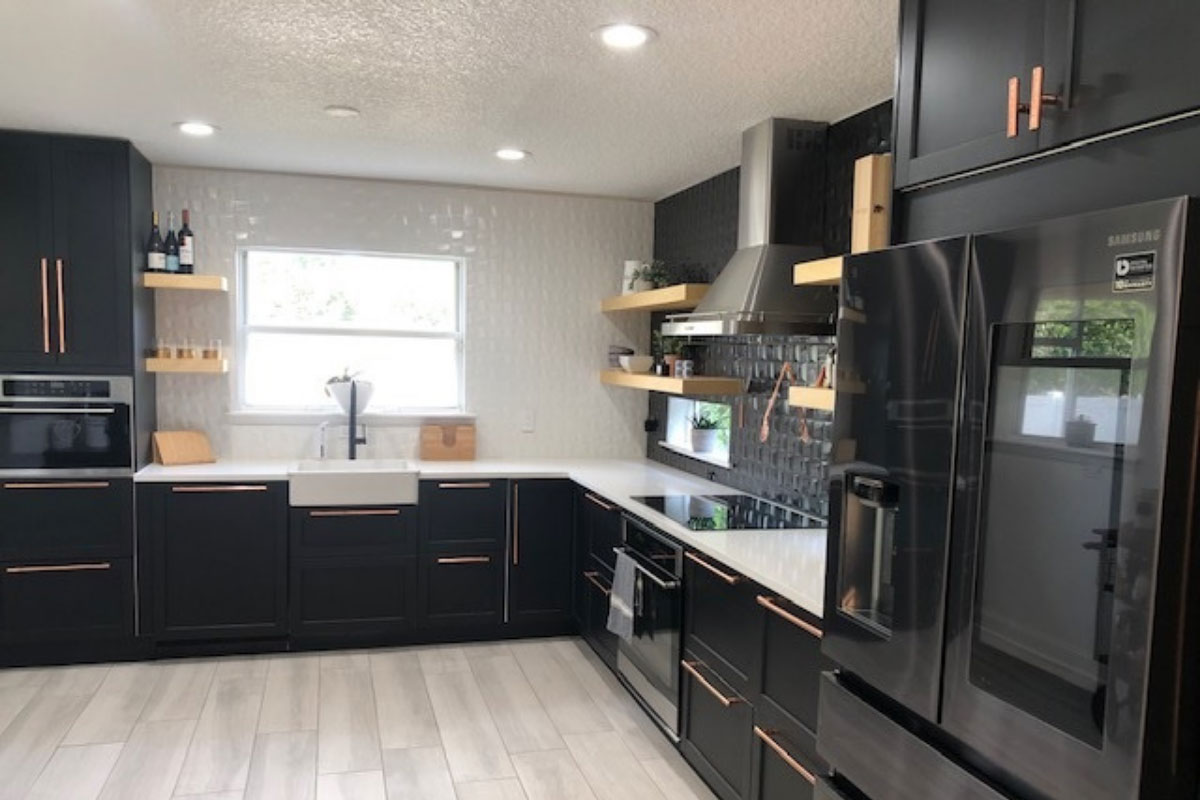 L-Shape: The versatile L-Shape is pretty ideal regardless of square footage. In this layout, two sections of counter come together to form the "L". The design falls in with the 'working triangle' concept in kitchen planning. Meaning, you can access key areas (sink, oven, refrigerator) without having to move all around the kitchen.
This shape also offers design versatility in that you can add an island, breakfast bar, kitchen table, or keep open for the ultimate expansive feel. Perfect for the open living plans so popular today, this kitchen will graciously service the quiet evening at home or a house full of guests with equal ease. This is one of our all-time favorite L-shape kitchen remodels, complete with chic, black cabinetry and stunning backsplash.
Peninsula: Over the years, we've encountered some major mistakes with peninsula designs as well as utilized this layout as an efficient solution for many stumped remodelers. If designed correctly, the peninsula kitchen will minimize crowding and help to maximize your kitchen Zen. Essentially shaped like a "U", instead of an island in the middle of the kitchen area one end is attached to a wall. When an island isn't an ideal option for your space, the peninsula will provide that extra space for seating, working, or storage. It is perfect for homeowners who have enclosed kitchens but want the vibe of an open space. Also, the peninsula provides the opportunity to socialize while working but the wall-attached end encourages friends or family to gather on the room side so as not to cramp your prep and serving style. Win-win!
Once you've determined or identified the best layout for your kitchen, selecting cabinetry, colors, materials, appliances, lighting fixtures and hardware will feel fun and empowering rather than overwhelming and tedious. The first step is of course determining how the kitchen functions within the context of how you live. Considered the "heart of the home" the kitchen does hold high-value items however it's used. Whether you're feeding a family of five or more of a "take out and champagne" type, your kitchen should reflect your lifestyle. When you work with IKD, we help you determine how to get your kitchen into the best possible shape.
Get custom design plans for (almost) every room in your home, starting at $395. Click here to get started.