Sometimes IKEA doesn't work out; use your design to buy elsewhere!
We all know to "plan the work, then work the plan," but what do you when your plans to work with IKEA don't pan out?
This was the situation for IKD customer Amin from Martinez, CA, who originally wanted IKEA cabinets for his kitchen remodel but needed to readjust his design vision when COVID-19 started causing product backorders. "Planning a kitchen remodel during a pandemic [and with] IKEA's supply chain issues, we definitely knew we were in for some challenges," he says.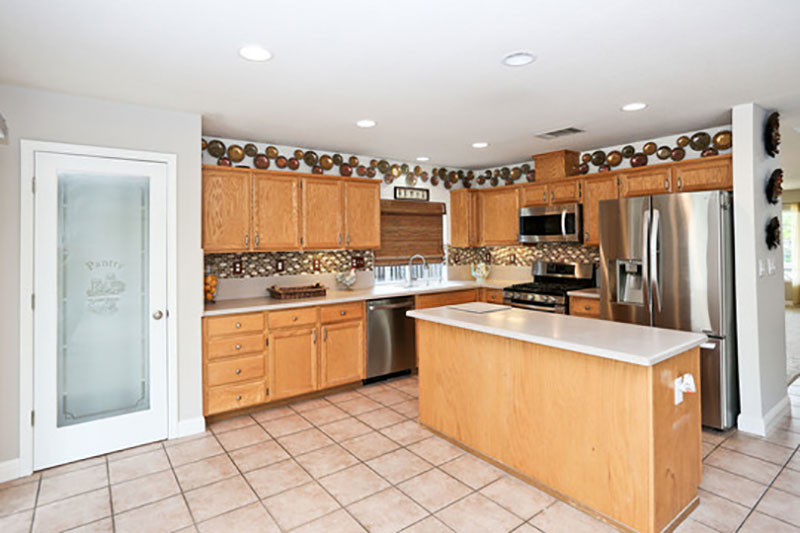 Admirably, Amin took those challenges as an opportunity and through some extensive research, he discovered that IKEA's modular sizing was nearly the same as the other brands he and his family had investigated. To address these challenges, Amin found IKD online and cleverly decided to use a local cabinet company called, Elite Custom Cabinetry in Fairfield, CA, to build out the exact kitchen IKD had designed. "So much hard work was done for the IKEA design and I didn't want to lose it. The cabinet company even recreated the drawer-in-drawer function for us just like IKEA's SEKTION!" he says.
The results are tremendous! What was once a stuffy, outdated kitchen with inefficient space now is a cheerful, open concept layout with plenty of storage. This includes a trash pullout in the large center island and tall and upper cabinetry around the stainless steel refrigerator. The space is complemented by other stainless steel appliances, including a microwave; four-burner range and vent hood, as well as quartz countertops from Home Depot on the exterior wall and on the island for a seamless, classic style. "IKD's designers helped us choose cabinet depths for the island so we would have plenty of storage space on both sides. They also helped us choose an overhang length that would not obstruct the pathway walking into the kitchen." In fact, he cites the island as his favorite part of the kitchen, saying, "the oversized island is a great place for us to eat, talk, and laugh as a family over a meal."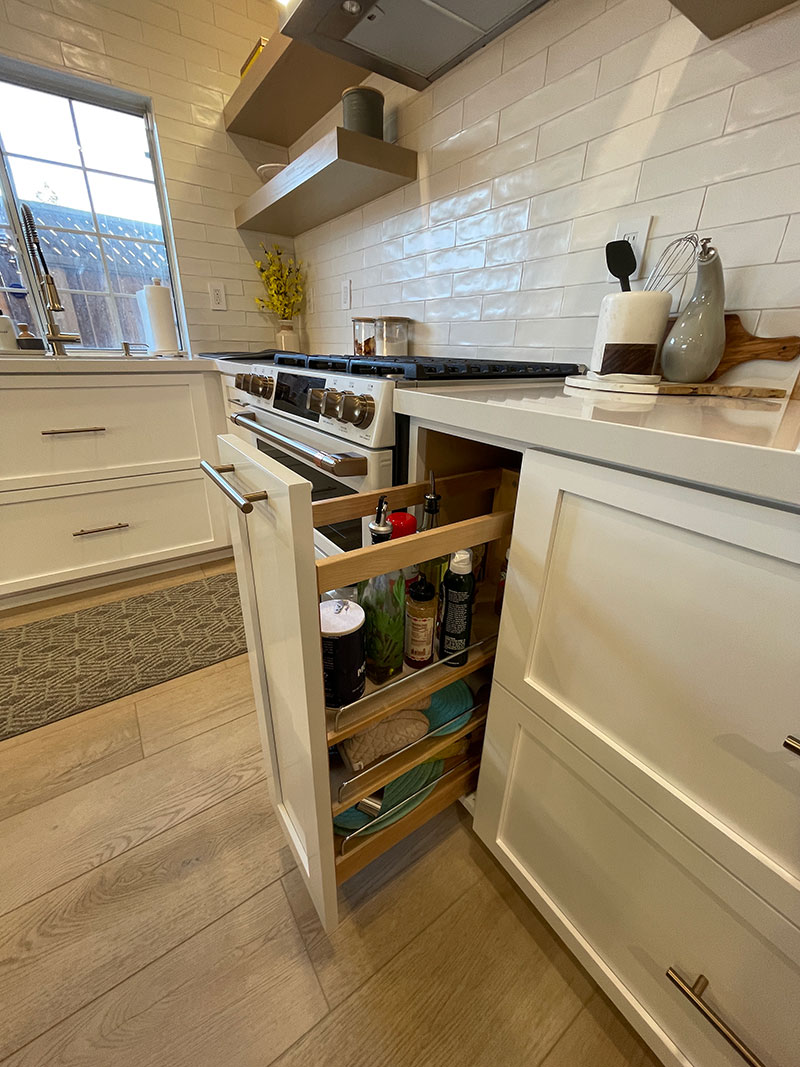 Amin concludes: "We really weren't considering custom cabinetry for our project simply because of the cost. But it all worked out. Our kitchen layout was pretty standard so modular cabinets like IKEA's would've worked just fine [if not for the supply chain delays]."
Let's see how when faced with IKEA backorders, Amin didn't back down!
Work Smarter, Not Harder
When Amin began his classic-style kitchen remodel, he knew IKEA cabinets were his preference. "Our existing options were pre-fabricated cabinets from big-box stores, low quality imported cabinets with weak adhesives and workmanship, or expensive custom cabinet options. IKEA's modular and ready-to-assemble cabinet line carved out a separate niche where the cabinets delivered a high level of value at an accessible price point. They also had all the features we wanted, including large pantries, soft-close drawers and doors standard, and panel-covers for dishwashers."
Unfortunately, COVID-19 had struck and Amin was left with a new challenge: Find a suitable alternative to IKEA cabinets when product delivery delays began. "Once our design was completed by IKD, it was impossible to fulfill our order at IKEA due to their supply chain issues. Even searching across all the stores within the state, IKEA did not have key cabinet parts and pieces and did not have any time-estimate on when those pieces would arrive. Since we were new home owners and first-time remodelers, we didn't want to start a remodel with the risk of not being able to finish it," he says. Plus, having already plucked down $445 for IKD's design services, he, quite frankly, knew he wanted to make sure he could still achieve the kitchen he wanted — even if it would cost him more using custom cabinetry.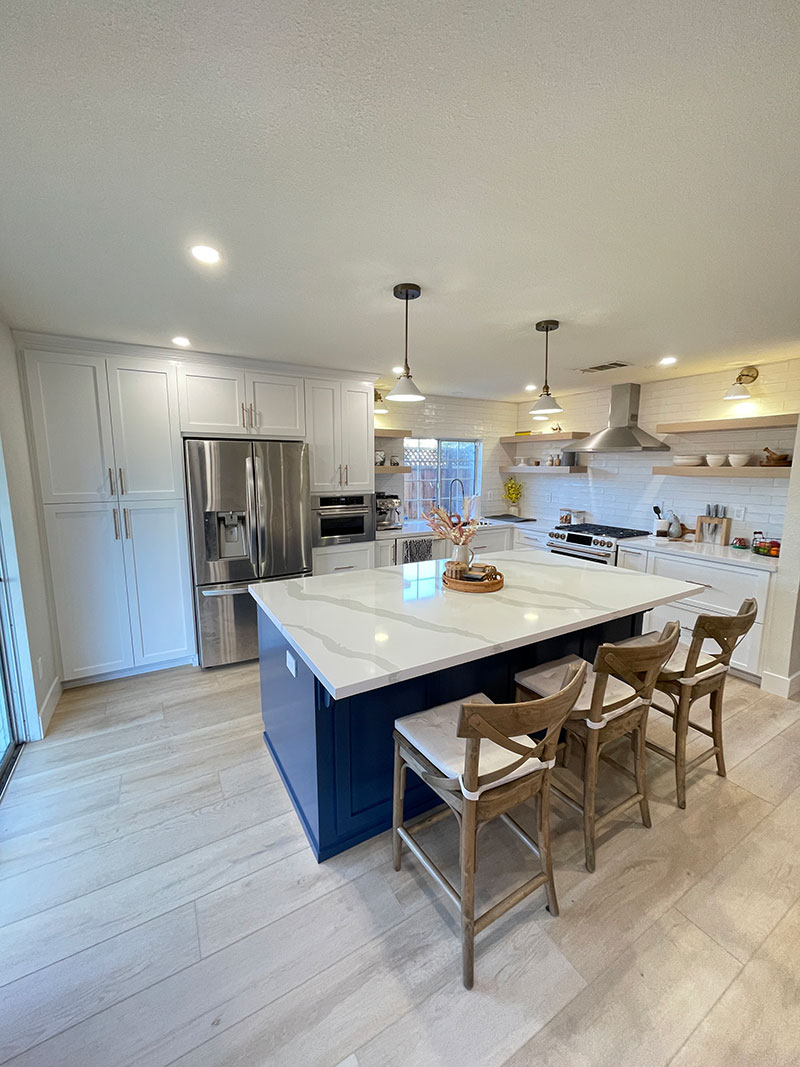 So, the key then became realizing that IKD's kitchen design plans are actually universal and can be utilized even if not using IKEA cabinets. First step, done!
Then after extensive market research, he found Elite Custom Cabinetry which was able to match and build the layout. "We were really bummed because we had invested so much time with IKD to get our perfect design, and then IKEA couldn't deliver. We thought we had wasted our time and would not get the kitchen of our dreams. But this is the beauty of IKD. We were able to show their design to the custom cabinet company and they were able to make our kitchen exactly as it was designed — even the highly sought after [IKEA SEKTION] 'drawer in drawer' feature." In fact, the cabinet company did most of the contracting work, including providing their own demo team and installers, "and they did a great job," he says.
Noteworthy, he did not adhere to a strict budget but did his due diligence here as well. "By comparing rates diligently, we saved thousands of dollars on both material and labor costs," he says. Ultimately, though, Amin still spent approximately $33,000 for everything, including demolition, plumbing (he moved the refrigerator location which changed the layout), as well as electrical, installation and appliances.
Savvy Storage
The same savviness Amin showed in choosing his non-IKEA, "IKEA" cabinets, is the same approach he used in determining his storage needs.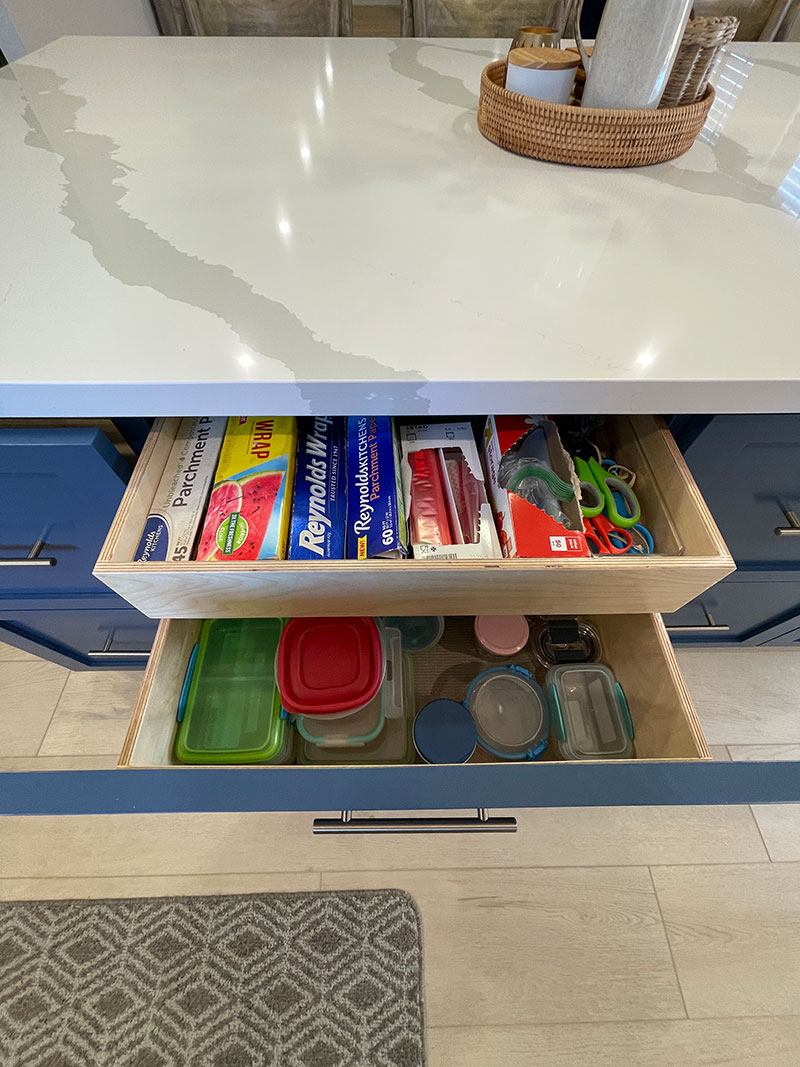 He explains: "One of our principal concerns was the open concept layout. In our families, we always thought more storage space was better. So we [were concerned] that by getting rid of the wall cabinets we would not have enough space for all our items. We actually took an inventory of our old kitchen and counted everything we were currently storing. We made a separate list of what we actually needed to store on a day-to-day basis. Then we compared the two lists and found we were already over storing items in the kitchen. Why did we need 20 plates, and 15 glasses? There were only three of us living in the house!" He adds that this analysis made him realize that eliminating wall cabinets was completely feasible.
Therefore, IKEA's internal storage options were a huge draw to maximize use of the space. "Our decision to go with a pullout spice drawer, pantry drawers and Lazy Susans were all inspired by IKEA's cabinet options. Even though we ended up going with a custom cabinet company, we still were able to use IKEA's storage options because our cabinets and drawers were exactly the same dimensions as they would have been if we went with IKEA," he notes.
Choose IKEA Cabinets
Amin concludes that even if an IKEA customer is facing a similar situation as he did, remember that IKD's designs can be used with nearly any cabinet brand.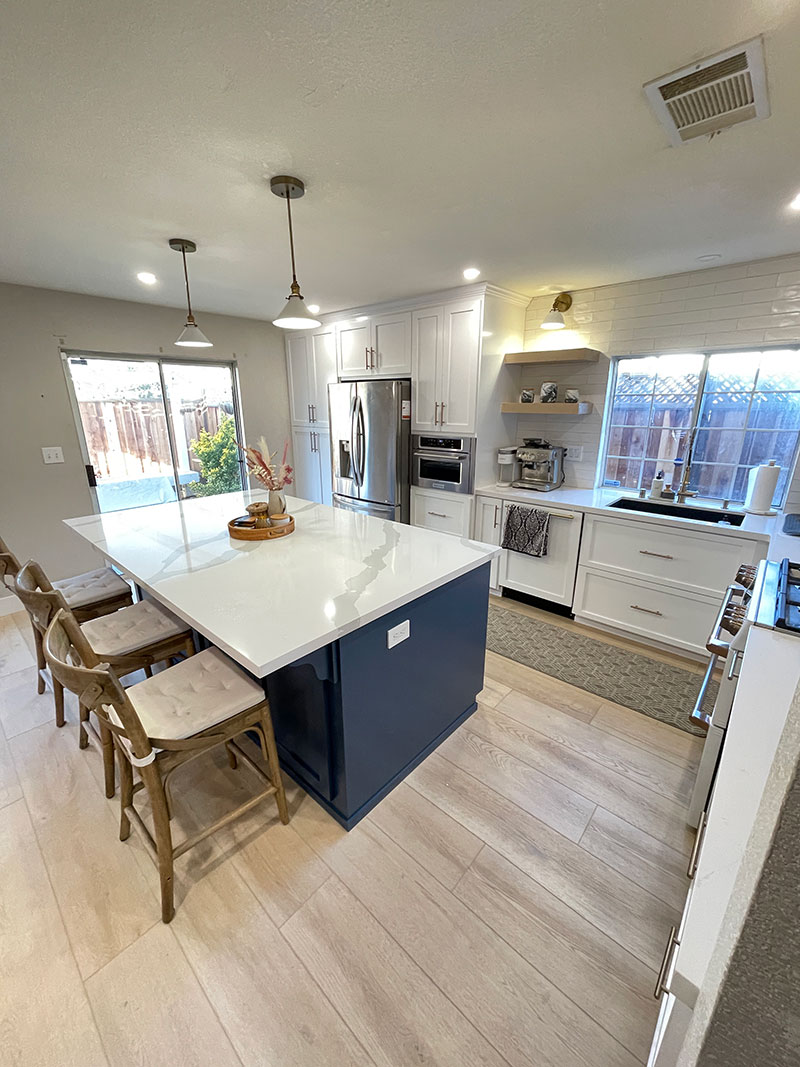 "While our cabinets ended up being non-IKEA, I would say your 'Plan A' should always be IKEA cabinets. They deliver so much value for your money, and if they had a solid supply chain at the time of our remodel, we would've chosen them. My second piece of advice is don't be afraid to pivot toward a 'Plan B.' Since we used our existing IKD design, it made communication with the custom cabinet company effortless. We didn't have to explain anything, we just handed them our IKD design and we got our 'IKEA' cabinets after all, only hand made by a different company. So, if you're reading this now and IKEA is still having supply chain issues, you should use IKD to design your kitchen because their design team will create a beautiful kitchen design that you can execute using a variety of vendors!"
Learn more about how we can design your IKEA kitchen, bath, laundry room and other rooms at https://inspiredkitchendesign.com/.