Picking the Right Appliances… Early
One of the fastest ways to economically upgrade your IKEA kitchen (and the first place to start!) is by choosing the right appliances. We understand this may sound surprising to customers who assume they must choose their cabinets first. Yet it's actually an "appliances first" approach which will keep costs down — as long as you think things through.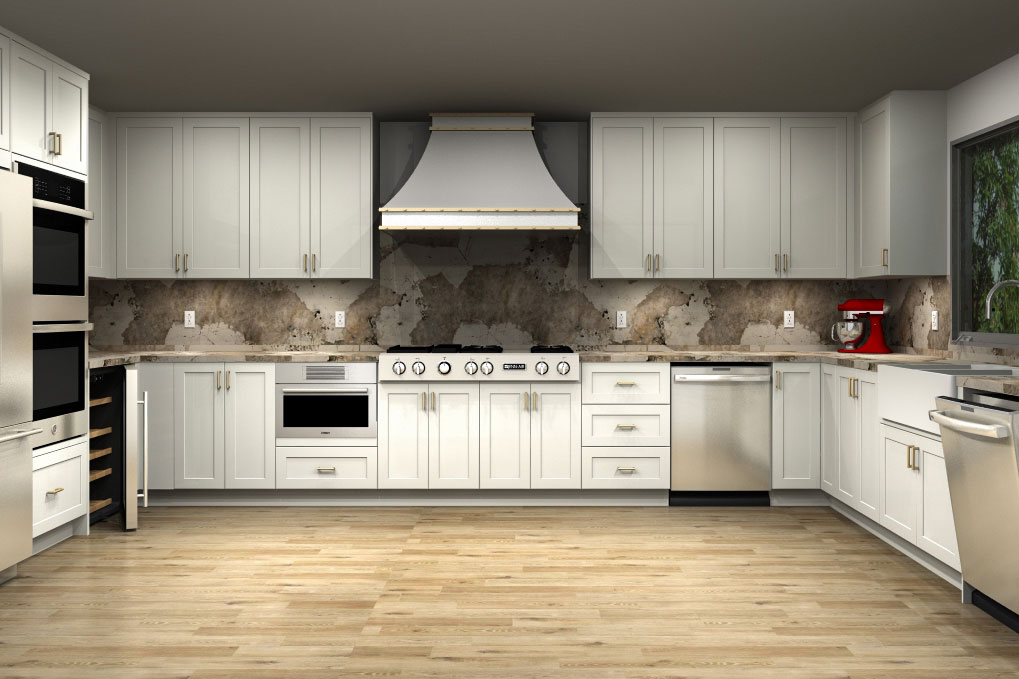 The good news is that any brand of appliances works with IKEA kitchen cabinets. Keep in mind, of course, there are a variety of options and price points available. For instance, a low-end standard refrigerator, say from Insignia, will cost around $400-$500 while a high-end stainless steel option from Fisher and Paykel could run over $6,000.
Similarly, an item like a Whirlpool 30" wall oven can start at around $1,300 while a higher-end end option, like Viking's 7 Series 30" Electric Double French Door Wall Oven, costs more than $11,000. (Keep in mind a wall oven requires two appliance purchases including a single- or double-wall oven and a cooktop.)
Also, if you opt for a new kitchen layout, consider how your appliances will integrate into the design. This may mean changing location of appliances and having to move the gas, electrical or plumbing to accommodate your appliance location which very well may incur additional costs for your project.
Pro Tip: In order to fully understand what you want out of your appliances, you'll want to make a priority checklist of your needs in the space; understand the appliance features that appeal to you the most and take proper measurements.
These are the types of things that you'll need to consider and can have a great impact on your kitchen. So, by the time you select your refrigerator, for instance, you'll know exactly whether you prefer a standard, counter-depth, or integrated refrigerator as opposed to selecting one and realizing later it wasn't what you needed.
Lastly, your cabinet selection will depend a lot on your appliance choices. (Just be sure to consider the supply chain delays and product shortages that are still occurring as a result of COVID when you make your selections.)
Thinking More about Countertop Options
Likewise, it's also important to select the right countertops for your IKEA kitchen. This is key because for a standard 10'x10' kitchen there will be roughly 15' of linear feet of countertop space — and countertops add a ton of style options and functionality.
Remember the Warren Buffett quote at the beginning? Well, we'd say that your countertops are a great example of it. You can get granite countertops, for example, at a fraction of the cost of IKEA's pre-cut laminate countertops — which range from approximately $49.00 per square foot (think IKEA's LILLTRASK white countertops) to $124.00 per square foot (IKEA's SALJAN countertop for kitchen islands) if you check out local sources.
So, if you have limited counter space that's broken up into smaller sections, purchasing remnants from local granite suppliers could save you a hefty chunk of change without sacrificing the look you want. Plus, the right countertop material is a great way to make your IKEA kitchen even more unique and will add resale value to your home.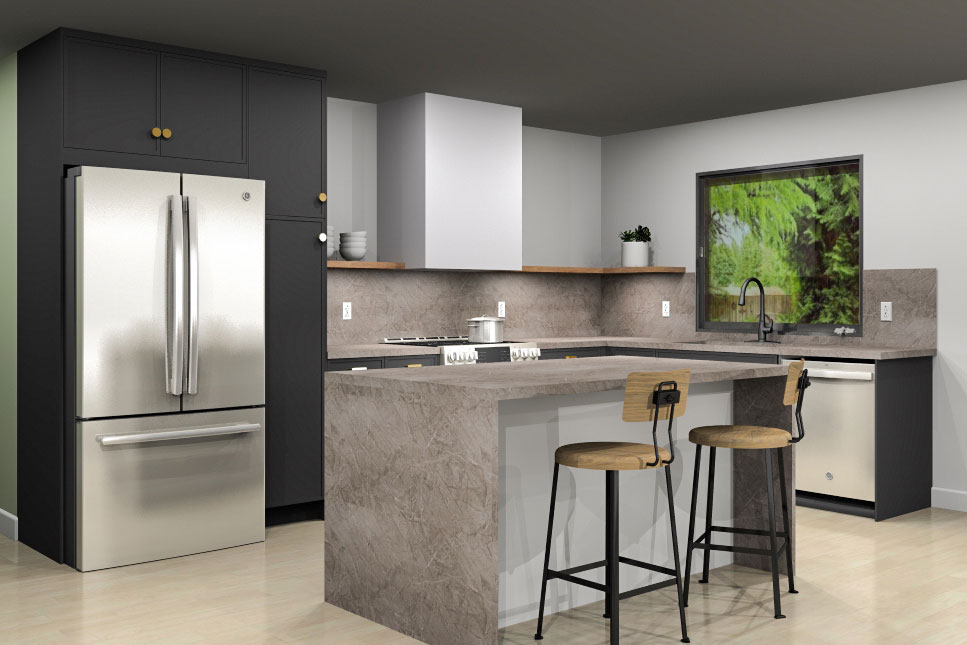 Keep in mind, the total cost of new kitchen countertops in a kitchen remodel is approximately $2,000 to $4,000. Luckily, if you go beyond the brand names — like Caesarstone ($55.00 – $75.00 per square foot); Cambria ($55.00 – $125.00 per square foot) and Silestone ($50.00 – $100 per square foot), there are several other countertop options available.
These include:
Ceramic tile ($.50 – $35.00 per square foot);
Solid surface ($20.00 – $50.00 per square foot);
Plastic laminate (starts at $10.00 per square foot);
Wood (starts at $20.00 per square foot);
Natural stone (starts at $40.00 per square foot)
Overall, picking the right countertop for your IKEA kitchen will be a matter of finding the perfect combination of style, size and price to meet your layout and budget needs. (This is where your checklist and proper measurements again are a great help, as is knowing whether you want to splurge or save on your countertop edge treatments, which can add up quickly as well.)
Less Cabinets, More Doors Rather Than Drawers
You didn't think we'd forget about affordable cabinet options, did you? Well, opting for IKEA full-height base cabinet doors complemented with upper floating shelves from third-party custom cabinet front manufacturers — rather than using drawers – will be a cost-effective solution for your SEKTION cabinet framework and will reduce cost while providing plenty of storage.
One example here is using Semihandmade's Classic Walnut floating shelves, such as seen in this recent IKEA kitchen. The shelves (available for $208) provide open storage for dishes and glassware, or even objet d'art, to create a stylish, accessible and personalized choice for your IKEA kitchen.
Basically, this is more affordable than upper wall cabinetry, which now leaves you room to splurge on other kitchen accessories (such as internal organizers) and the added space to fit those items into your design.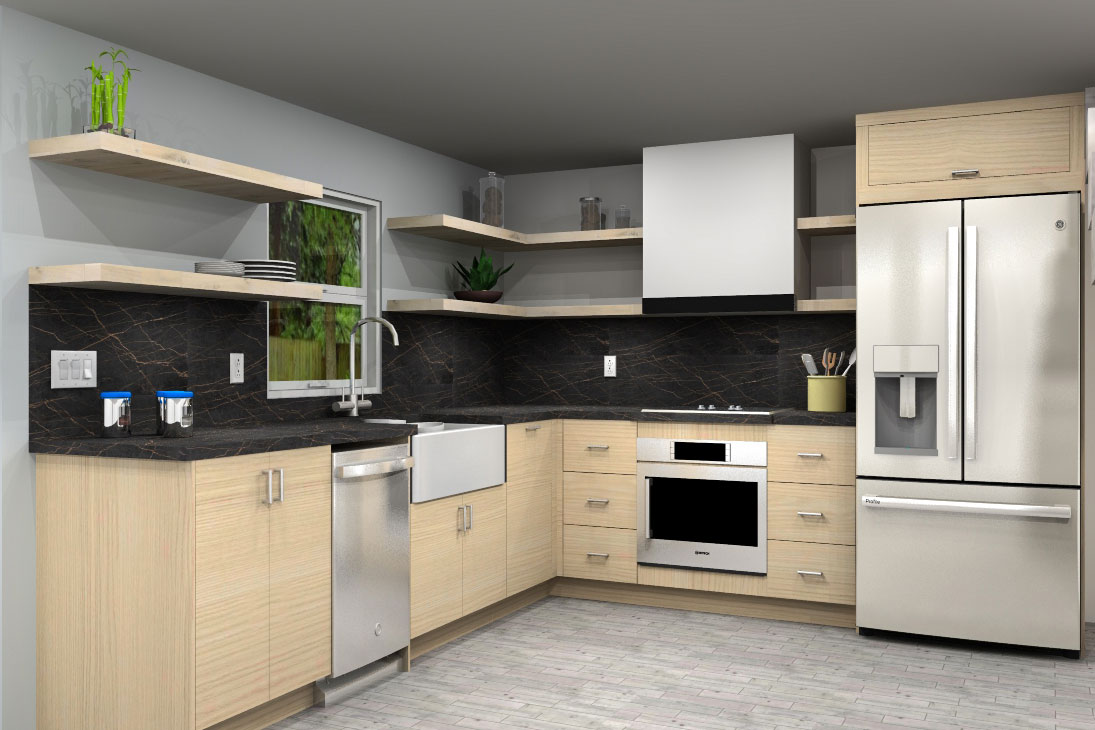 Likewise, wider cabinets will generally reduce costs for your project as opposed to choosing several narrower ones in the same space. So, for example, if you were to purchase a 36" IKEA SEKTION base cabinet it would cost you $58.00, which is more affordable compared to installing two 18" IKEA SEKTION base cabinets together into the same spaces (which at $40 each would cost $80).
Keep in mind, it may also reduce installation costs depending on how your contractor or installer charges.
The bottom line is you don't need to sacrifice your bottom line for a stylish IKEA kitchen. In fact, with guidance from design professionals such as IKD, you will be able to choose the most affordable and stylish options to bring your design to life.