Kitchen corners are the dreaded space in kitchen designs because most kitchen corner cabinet units are awkward and cumbersome to navigate.
Therefore, we push the items that we don't use to the dark back corners of these cabinets, and they become the graveyard of unwanted pots and pans.
However, there are new ideas that improve the functionality of kitchen corner cabinets in ways that make them ideal storage spaces. Therefore, if you are thinking about remodeling or planning a new kitchen altogether, it is worth considering how you will use those tricky spaces in your kitchen.
Kitchen Corner Cabinet Types
Because this is such a common problem, there have been many cabinet designs trying to make the best use of this corner space. There are ideas for the base cabinets and for the top cabinets.
Popular types of base corner kitchen cabinets
Base corner corner cabinet – This cabinet is a type of single cabinet that fits into the corner and features a double hinged door with a knuckle hinge that allows the door to open and lay flat. This opens to a large cabinet space. Many people make the most of this space with the addition of a lazy susan to improve access in the back of the cabinet.
Blind base cabinet – This option features two base cabinets fitted together. One cabinet is longer and fits into the corner and is accessed by a door. However, this option is not as popular because it is difficult to access the items in the back of the corner cabinet without inserts. Some new options to ease this difficulty are swing out storage units that are fitted into the blind corner.
Corner drawers – These have become one of the more popular corner cabinets for kitchen design in recent years. It is one corner cabinet that looks like two cabinets with 3 drawers each. However, it is one cabinet and the drawers are connected at a 90 degree angle.
Base angle corners – These cabinets fit at an angle in the corner. Thus, sometimes kitchen designers use this cabinet as a base if there is a sink or oven positioned in the corner.
Popular Upper Kitchen Cabinet Ideas
Many of these cabinets can also be used on the top with the exception of the corner drawers. However, there are some unique upper corner cabinet ideas too.
Open shelves – Shelves can be fitted into the corner in a way that increases accessibility.
Straight cabinet – If you have more flexibility in your kitchen cabinet design, you can use a tall straight cabinet in the corner of the upper cabinet space without needing to adjoin other cabinets to it. Further, this allows you to access this cabinet without the hindrance of another cabinet.
Kitchen Corner Cabinet Inspiration
There are many amazing ideas for kitchen corner cabinets there is no reason not to make the best use of this available space.
A diagonal cabinet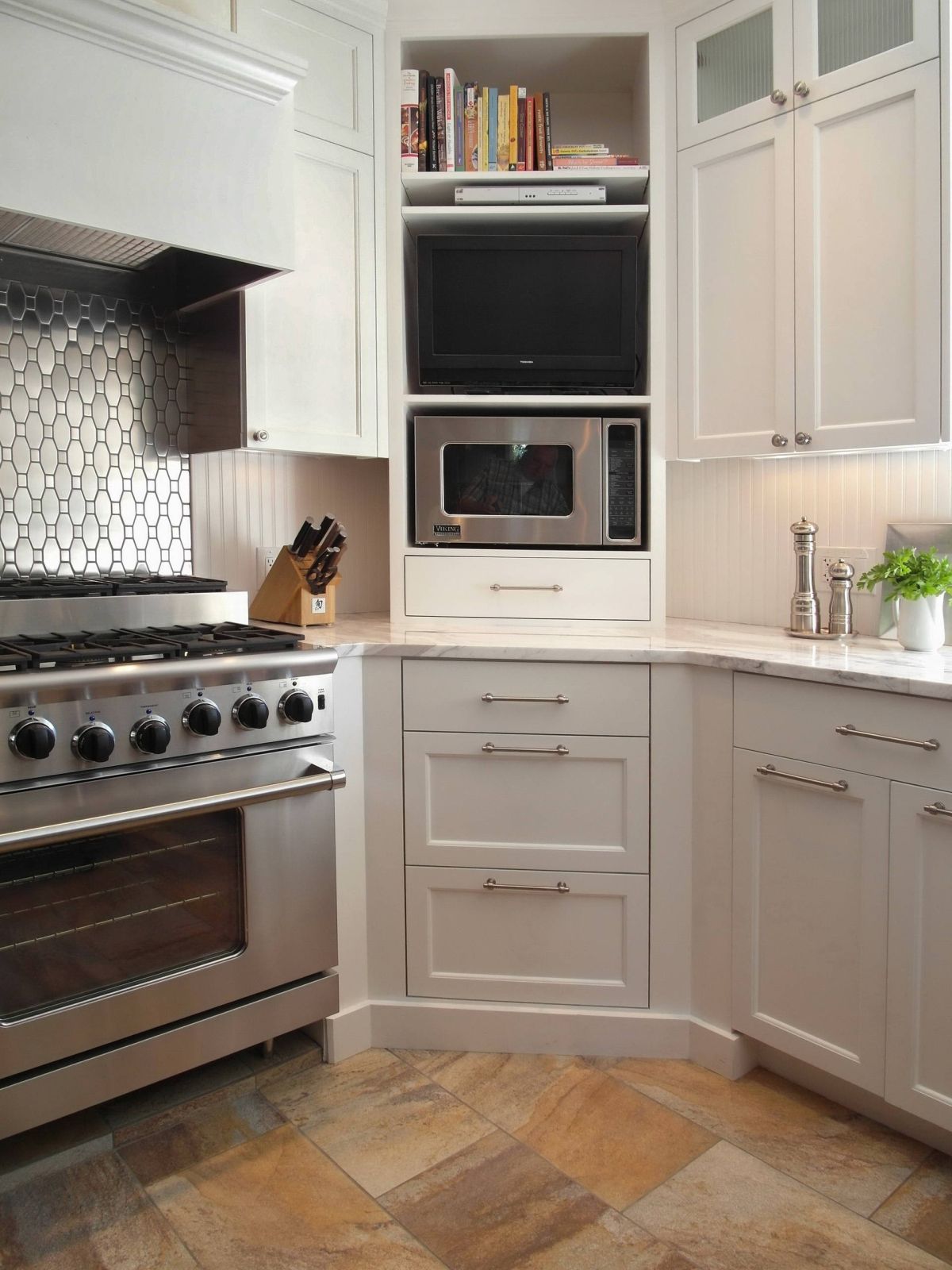 The designers have used this kitchen corner to its fullest potential. The corner base kitchen cabinet is angled corner cabinet with three drawers.
Also, the kitchen design left open the top cabinet to house the microwave and a TV. The open shelf at the top features cookbooks that provide a colorful and textured look for the kitchen.
Open corner shelves
Shelves are the perfect way to allow full visibility in the corner. For example, this corner solution works well in this eclectic style kitchen.
Further, the half walls provide enough definition to separate the corner pantry. The wood shelves add a new color and texture to this kitchen design.
Upper corner shelves
If you don't have the room or the desire for full corner shelves, try just upper shelves. These upper shelves can be shallow and provide extra visual interest in the kitchen.
Further, you can display special items or use well used utensils. Either way, open shelves change things up and add a striking look to any kitchen.
A tall cabinet
Of course, open shelves do not work for everyone, but most people love the visual interest they bring to a kitchen. Instead, consider a tall upper cabinet with glass doors instead of open shelves. Thus, it gives you the visual interest you want, without the inconvenience of open shelving that gets dusty.
Angled glass upper cabinet
Here is another upper cabinet option that works well in this casual and contemporary kitchen design. This kitchen features a glass-fronted angled cabinet that is ideal for the display of colorful dishes while still keeping everything away from grease and dust.
Curved corner cabinet
If an angled cabinet doesn't fit the style of your kitchen, there are other styles that you can choose. Consider this curved cabinet. It is a great option if you want to elevate the style of the kitchen design. It looks more custom and purposeful than the standard angled corner cabinet.
Corner backsplash
This kitchen design makes use of the space in the corner by placing a stove and vent hood there. In fact, a design like this works because it utilizes the principle of the work triangle. This gives this galley-style kitchen a leg-up on larger kitchens inefficiency.
Stacked corner appliances
This kitchen from Hendel Homes utilizes an angled cabinet that juts out beyond the standard depth to create a custom cabinet look. Also, they have designed this cabinet with an oven/microwave with upper closed cabinets above to use the whole corner.
Pull out corner cabinet shelves
One of the best blind corner cabinet ideas is to pull out shelves in order to access all the available space in the back of the cabinet. This way, you can store items all the way in the back corner which are as available to you as those in the front. One of the best options for this design is the Magic Corner Unit.
Corner drawers
Corner drawer units are one of the more expensive options for corner base cabinets. However, they allow you to have controlled access to each section of the cabinet offering better organization than other options available.
Lazy Susan inserts
One of the most popular and lasting ideas to utilize corner cabinets are lazy susans. They are available for any budget and size cabinet.
Polymer lazy susan
This is a polymer Pie-cut Lazy Susan from Wayfair. It is sturdy, long-lasting, and a cost-effective option.
Sinead lazy susan
This wire lazy susan is another inexpensive option. It has an open wire design that works well for small and large items. It is also available from Wayfair.
Sliding lazy susan
This is a more delux form of a lazy susan design that curves and slides out for maximum access and usability.
Frequently Asked Questions (FAQ)
FAQ
What is good to put in a corner kitchen cabinet?
Most people store items that they don't need to access all the time like items that they use for occasional parties. However, if you have the right inserts that make the most of the space, you can store items that access every day. Because of the large spaces in corner cabinets, you can store small appliances and large pots and pans in this area too.
What do you do with kitchen cabinets in the corner?
There are some amazing corner kitchen cabinet ideas to optimize all the space in your kitchen, including the corners. Sometimes, you have to think in a creative way about the space in the corner. Some of the best ideas are to incorporate a full pantry into the corner, add open shelving to the top area which is easier to access than a cabinet. On the bottom, use drawers if your budget allows as these make the best use of the space without the extra clutter of folding doors.
Are corner cabinets useful?
Corner cabinets are useful because they are so large. However, in order to make use of all the space, you should utilize some of the solutions that exist. These include sliding shelves and lazy susans to get to the far away corners of the cabinets.
Are corner pantries outdated?
Kitchen designers are sending out mixed messages about corner pantries these days. These were popular in the 1990s and early 2000s as a way to use all the available space in the kitchen. However, these pantries are still being built in kitchens today. Many people see them as an outdated trend. They can take up too much room and inhibit the openness of a room's design.
Are lazy susans still popular?
Yes, lazy susans are a popular way to store items in a corner cabinet. There are many kinds of lazy susan designs including those that fit inside the cabinet and lazy susans that are attached to the cabinet door.
Conclusion
Corners in kitchens are a fact of life and one that we must learn how to best utilize in our kitchen designs. In fact, kitchen corner cabinet designs have come a long way.
There are amazing new ideas that increase the functionality of your kitchen cabinets. Therefore, if you are designing a new kitchen or just looking at some ways you can remodel for more efficiency, explore ways that you can put your corners to the best use.
In the end, you will need all the space you can get.